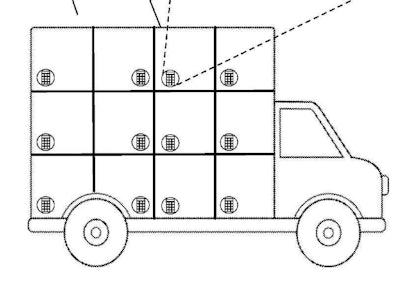 Last week, Internet giant Google was awarded a patent on what the company calls an "autonomous delivery platform."
Google explains in the 18-page filing that its patent and concept for delivery is one where an autonomous truck arrives at its destination and the recipient approaches the vehicle and enters a PIN, or uses a method of payment, to open the locker containing their package.
Autonomous driving, specifically in delivery applications, are buzzwords. But in this specific case, I was underwhelmed.
And I wasn't the only one.
"Moving storage lockers. Less elegant than what I expected from the Googster," CCJ commenter DoubleDs commented on our original article last week.
I agree. Despite the "package securing substation," as Google calls it, looking like something from the locker room at the YMCA, this concept feels behind where we currently are. Google filed this patent nearly 3 years ago, and I believe technology passed this innovation by while it waited for approval.
"So much for personal interaction, but better than an Amazon drone….I guess," added CCJ commenter bbustr54.
Personal service aside, and the obstacle of no one being home to receive the package, a driverless truck loaded down with deliveries is going to be a target for cargo theft.
Without someone inside the vehicle to get out of the vehicle and hand you your package, the days of door-step delivery will be over. That removes a convenience from the receiver and gives it to the shipper, and I'm not sure that's a trade a majority of consumers will be willing to make without serious resistance.
The de-personalization of delivery doesn't sound as buzz-worthy as "autonomous delivery."
Personally, I think the drone has higher upside, especially for shippers like Amazon who move a lot of lightweight packages. The use of mobile launching pads only extends the range and capability, and it's a lot closer to door-step delivery than Google's latest innovation.
I think Google has better up its sleeve and it may be sitting in the patent office right now. Maybe we'll find out in three years.