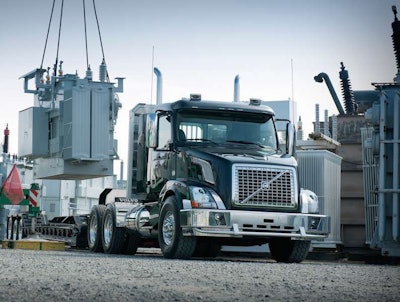 The restructuring of Volvo Group's business units announced last month that splits Volvo Trucks and Mack Trucks into two distinct units in North America will lead to improvements in customer service and help the company streamline its sales organization and reporting, said Göran Nyberg, president of Volvo Trucks North America. His comments came at a press briefing this week at the House of Sweden in Washington, D.C., where executives provided an update on the company's recent successes and outlook for the year.
"Where we had Volvo Group truck sales under a global umbrella, now we are back to a brand organization where each brand has a direct line to every region and market where they are represented," said Nyberg. "We learned a lot during previous organization. We will carry the good things with us into the new organization. Customers are buying from brands and we want to be laser-focused and maximize opportunities for each brand and each market."
Company veteran Claes Nilsson will be the global head of Volvo Trucks, while Dennis Slagle will focus solely on Mack Trucks. "In North America, we have separated brand organizations but we will not split the shared services that we created," added Nyberg. "In markets where we are dual-branded in sales functions we are actively supporting our dealers to have dedicated resources for the Volvo brand. You can still be under one roof with separate brands with a common service department."
Gaining market share
Volvo Trucks North America achieved a record year with 12.2 percent NAFTA Class 8 market share – as was reported last week – which includes 12.4 percent in the United States and 16.3 percent in Canada. It shipped 38,849 trucks from its New River Valley assembly plant in Dublin, Va., another company record.
"Last year was a good step, but it's not good enough- we have far more to do," said Nyberg. "But it's certainly an achievement we are all proud of." Nyberg forecasts the total Class 8 truck market to reach 260,000 units, well shy of last year's highs but still a good year historically.
"We are adjusting to the new normal," he said. "We, like other OEMs, have high levels of inventory in our dealer network, and we are working actively and are making good progress to reduce those inventories and make sure our dealers can get back to normal levels," adding the second half of the year will be strong.
Volvo Trucks plans to increase market share with a greater focus on industrial markets to add to its core strengths in regional and long-haul markets. Those markets include petro-chemical, vocational, heavy haul, intermodal and flatbed segments.
"We are at 16.3 percent market share in Canada and 12.4 percent in the United States, there's no reason we couldn't be at that same level if we focus on those markets," said Magnus Koeck, vice president of marketing and brand management.
Equipment update
Penetration rates for Volvo powertrain components continues to grow with customer acceptance.
Last year, Volvo recorded order rates of 93 percent for Volvo engine power and 83 percent for its I-Shift transmission, as well as a 27 percent take rate for its fuel-efficient XE downspeeding package.
"We respect that we are a young brand in North America, but I think we have been setting trends and are now the leader in integrated engines and automated transmissions," said Nyberg.
Volvo Trucks recently eclipsed the 100,000-truck threshold for its Remote Diagnostics platform, and the company is still developing its capabilities. "We are just scratching the surface on connectivity," he said, hinting at expanded vehicle capabilities including flashing over the air and more robust predictive diagnostics.
Sales of Volvo's new 6×2 adaptive loading (liftable) axle announced last March is also a bright spot for the company.
"Demand is greater than we can build today," said Nyberg. "When we introduced the I-Shift in 2007, a lot of people said that will not fly in North America. I would expect that we will grow our 6×2 liftable axle concept step by step and it is something that will change the industry."