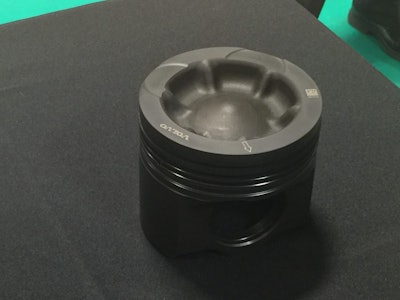 According to the Environmental Protection Agency (EPA), transportation sources emitted 29 percent of all greenhouse gas (GHG) emissions in the U.S. in 2007 and have been the fastest-growing source of GHG emissions in the country since 1990. Heavy-duty vehicles are the fastest-growing contributors to GHG emissions, the EPA adds, with Class 7 and 8 combination tractors and their engines accounting for roughly two-thirds of total GHG emissions and fuel consumption from the heavy-duty sector.
To combat this, beginning with the 2007 model year, all on-road diesel heavy-duty engines were required to be outfitted with a diesel particulate filter and another 50 percent of engines required nitrogen oxide (NOx) exhaust control technology.
By the 2010 model year, all on-road heavy-duty diesel engines were required to have NOx exhaust control technology.
Truck OEMs have spent the last 10 years chasing ever-tightening emissions regulations and the moving target that compliance has become will continue to move – at least for the foreseeable future.
With EPA 2010, GHG14 and GHG17 already checked off engineering to-do lists, EPA Phase II rests on the horizon.
The EPA and NHTSA, in collaboration with the California Air Resources Board (CARB), plan to extend the Heavy-Duty National Program beyond model year 2018, to further reduce fuel consumption and reduce CO2 emissions by up to 4 percent compared to Phase 1 before 2028.
Engines are already running at near-zero NOx and they're getting better fuel economy than ever before. Squeezing more blood from this turnip is going to challenge engineers and designers.
This week, Volvo introduced its 2017 lineup of engines. More impressive than their torque and output, to me, were some of the small details that helped prod along efficiency gains.
A piston is a heavy cylinder. There's not a lot of design to it; make it smooth and round. But effective with its 2017 engine, Volvo redesigned it.
The company's new wave design increases the compression ratio from 16:1 to 17:1 and maximizes fuel efficiency by fostering a more complete combustion of the fuel. The wave design replaces the "bowl" on top of the piston next model year.
Fundamentally, it's not a big change. But performance-wise, it's a creative way to to boost output.
Phase II doesn't mandate a specific new engine technology, and engine OEMs are free to take a variety of paths and methods to meet the efficiency gain goal, but among the methods the EPA lists in its plan of attack is waste heat recovery – something Volvo has included in its 2017 line D13.
Volvo's D13 with turbo compounding – a technology that recovers wasted exhaust heat and converts it to useable mechanical energy in the form of 50 additional horsepower that is transferred back into the engine – offers, Volvo says, up to a 6.5 percent improvement in fuel efficiency compared with previous engine models.
Waste heat recovery – specifically, turbo compounding – isn't a new technology. Detroit's DD15 has a compound turbo and won a Truck Writers of North America Technical Achievement Award for it. It's clearly a viable technology and I think you'll start to see their availability begin to spread in the years ahead.
Existing equipment (turbos or otherwise) will have to deliver more simply because there's not a lot of room left under the hood to attach more stuff.
"I don't have more space," says Dr. Steve Golden, chief technology officer for Clean Diesel Technologies, Inc.. "I have a box and I have all these things in the box. I need to get much more efficiency from those components now if I'm going to map out a pathway to better CO2 emissions."
From a design standpoint, that means getting more from what you already have. One-box aftertreatment is a step in that direction, and you're beginning to see more of that already. In the case of one-box design, you're actually getting more from less weight that takes up less space. That's three steps in the right direction.
The days of hundreds of pounds of weight-savings in an engine from one generation to the next are gone. You'll see them shed more weight but likely much less at a time, and that will come from changing many smaller components that add up.
The demands on engineers and designers in trucking have been rigorous for more than a decade, and creativity is now becoming as critical as a calculator.