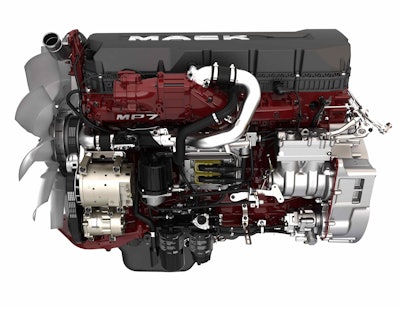 Mack Trucks celebrated Earth Day Friday in Austin, Texas – consistently ranked among the "greenest" cities in the U.S. – by unveiling its 2017 MP series engines.
Keeping in step with the Texas capital's aggressive greenhouse and NOx reduction goals, John Walsh, vice president global marketing and brand strategy for Mack Trucks, says Mack's new generation engines boost fuel efficiency from 2.1 to 8.8 percent compared with prior model year engines with additional upgrades in power and productivity, while reducing greenhouse gas emissions.
"We have become a leader in innovation," adds Dennis Slagle, president of Mack Trucks. "We've got the best products [now] that we've ever made."
"The product looks amazing," says Jonathan Randall, Mack's senior vice president of of sales. "Even the components look amazing, but they perform even better."
For the coming model year, Mack's 11-liter MP7 and 13-liter MP8 engines get a handful of advancements designed to simplify maintenance and improve efficiency and productivity.
Both engines feature an updated wave piston design that Mack says raises the compression ratio and enables more complete combustion of fuel and a common-rail fuel system that more precisely injects fuel and reduces soot.
"With the pressurized system [and wave piston design], you have much more control and better combustion," says Stu Russoli, Mack highway and powertrain products marketing manager.
Combined with a two-speed coolant pump, Russoli says these features help increase MP7 fuel efficiency by up to 5.1 percent and MP8 fuel efficiency by up to 5 percent.
Roy Horton, Mack's director of product strategy, says Mack began planning its attack for Greenhouse Gas 2017 three years ago, for which the company expects to receive full certification later this year.
"At the same time," he adds, "we decided to update our powertrain platform to improve performance [and] improve efficiencies."
A number of additional improvements were made to both engines, including a new two-piece valve cover, shimless rockers and a low-pressure fuel system with an enhanced, integrated aftertreatment dosing module to reduce maintenance needs. An updated, double-walled EGR flow sensor helps reduce condensation and soot buildup in cold weather, while a new intake throttle enables a faster warmup when the engine is started.
In addition to efficiency and maintenance improvements, the coming generation engines also deliver more power, Russoli says. With a new 425 horsepower rating, the 2017 MP7 offers 13-liter power in a lighter-weight, efficient 11-liter package.
Targeting long-haul applications, Mack will offer its 2017 MP8 engine with a turbo compounding system engineered to increase in power and efficiency. Turbo compounding converts waste energy from the exhaust into mechanical energy that is fed back to the engine. The system adds up to 50 additional horsepower, enabling an increase of fuel efficiency of up to 8.8 percent.
"What we've done here is when the turbo compounding works, it's actually driving gears within the turbo compounding system," Russoli adds. "The second turbo runs gears, so it puts 50 horsepower back … so the engine doesn't have to work as hard. The exhaust gas is putting 50 horsepower into that crank[shaft]."
The additional power generated by the turbo compounding system allows the engine to maintain full torque as low as 900 rpm – 200 rpm lower than the current generation engine – enabling a broader operating range in top gear while allowing a truck to hold top gear longer on a hill with declining engine rpm.
The Mack MP8 with turbo compounding is available exclusively with Mack's Super Econodyne downspeeding package.
The 16-liter MP10, Mack's most powerful engine and the standard engine for Titan, gets no changes for next model year.
Several of the revised components and technologies found on Mack's 2017 MP series engines – including the patented wave piston, turbo compounding and the common rail fuel injection system – were derived from research and development work associated with the U.S. Department of Energy's SuperTruck program. The SuperTruck program, a cost-shared, public-private partnership, aims to help accelerate the research and development of advanced efficiency technologies to improve the freight-hauling efficiency of Class 8 long-haul tractor-trailer trucks.
The 2017 Mack MP8 is currently available for order, while the 2017 MP7 and MP10 engines will be available in July. The Mack MP8 with turbo compounding will be available for order in October.
MDrive gets predictive cruise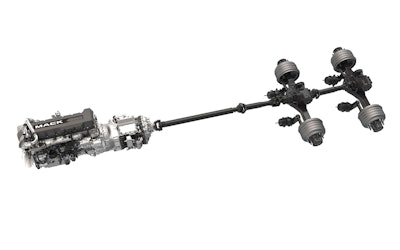 Also for 2017, Mack Trucks will offer Mack Predictive Cruise, an intelligent system that memorizes a route when cruise control is on, storing up to 4,500 hills in its memory.
The next time the driver travels the route, Mack Predictive Cruise engages Mack mDrive automated manual transmission to choose the most fuel-efficient gear.
Mack Predictive Cruise monitors driver speed, engine load, weight and the road grade in order to select the best gear for the road ahead. When approaching an incline, Predictive Cruise allows slightly more speed. mDrive then maintains the highest gear possible instead of downshifting, remaining in that gear and preventing downshifts if they are not needed to crest the hill. Maintaining the highest gear possible is more fuel efficient.
Mack Predictive Cruise can increase fuel efficiency by up to 1 percent and does not require a constant GPS connection. After a short connection to GPS, Mack Predictive Cruise recognizes the hill, sends the communication to mDrive, which automatically knows the optimal speed and gear strategy for the upcoming terrain.
"You could lose the GPS signal, but it already knows the route," Russoli says. "The object [climbing a hill] is to not downshift. This already knows you're coming off the top of the hill, so its already giving you less fuel."
When traveling downhill, Mack Predictive Cruise maintains vehicle speed, utilizing kinetic energy and softly applying the engine brake. Because the hill is stored in the vehicle's memory, Russoli says Predictive Cruise recognizes it and knows when the gradient will even out, allowing the truck to maintain its speed for the next hill.
Mack expects mDrive, which was launched in 2010 and named standard in 2014, to close this year out as the preferred transmission across all its trucks. Currently, mDrive in Pinnacle axle back specs have a take rate of 80 percent, Horton says. Pinnacle axle forward have a take rate of 60 percent, Titan 30 percent and 20 percent in Granite.