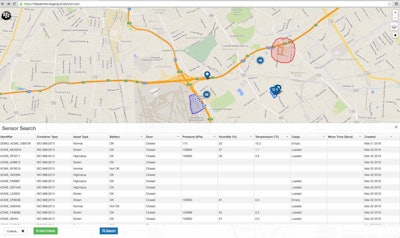 Phone maker and software provider BlackBerry announced this week at the Mid-America Trucking Show it is bringing to the U.S. marketplace a trailer monitoring system that will allow fleets to track their trailers in real-time and provide detailed reports based on the data derived by the system.
BlackBerry Radar, the system is called, works via the installation of a small device that mounts on a trailer's door and a web-based portal — simplicity the company says is missing from other trailer tracking devices on the market currently. It then connects to available cellular networks, and it's designed to work across all networks, the company says.
Using a bevy of sensors, the system monitors trailers' GPS location, temperature, humidity and presence of cargo. It then creates in the cloud-based web portal map-based visualizations of trailer locations and status, along with data-driven reports on metrics like trailer utilization, detention and more.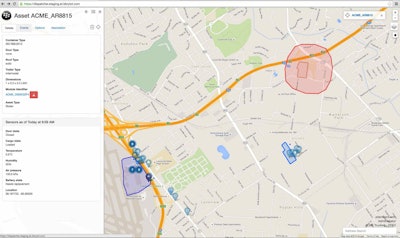 The system also can integrate with fleets' existing equipment monitoring systems or telematics systems.
Radar also allows carriers to create geofences and set rules to receive alerts about movement into and out of those geofences — such as when a trailer enters or leaves a shippers' facility or leaves or enters an area it shouldn't.
BlackBerry couldn't yet disclose pricing information on the device or the monthly subscription fees. BlackBerry says the system will be available for deployment this summer.
"BlackBerry Radar is fully integrated and provisioned, so customers can hit the ground running. Within minutes of installing our tracking device, users can access timely information on their assets to help make agile decisions that can dramatically improve an organization's profitability," said Derek Kuhn, Senior Vice President, BlackBerry IoT. "And because BlackBerry Radar is cloud-based, it offers the ultimate in convenience. All you need is a smartphone, tablet, or computer equipped with a web browser, and you can access information for real-time decision-making — wherever you are, and whenever you need it."