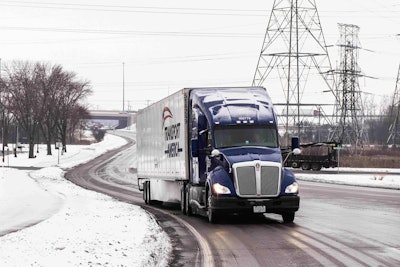 Transport America (TA), recognized as the 2016 CCJ Innovator of the Year for its technology that makes a driver's job safer and easier, has chosen the Lytx DriveCam program to protect its 1,800 drivers.
"We agree with the Lytx principle that the driver plays the biggest role in safety," said Gary Falldin, vice president of safety and security. "For us, the driver has the final say on what is safe, and we're going to give that driver the best tools to drive as safely as possible, including the DriveCam program."
The Lytx DriveCam safety program combines video capture of road incidents such as hard braking or sudden swerving, data analysis of those incidents, and personalized coaching insights to improve driving behavior to help prevent those incidents. Lytx says the net result of the program is reductions of collision-related costs by up to 80 percent.
TA chose the DriveCam program after a trial with 50 of its trucks.
"We stress culture, teamwork, training and technology and the Lytx DriveCam supports each of those priorities," said Falldin. "We want our drivers to feel empowered by what they learn from the DriveCam program's coaching insights. It's an excellent training tool, especially for newer drivers."
TA's tagline is "the trucking company that's changing trucking," and that means looking at safety a bit differently than most, according to Falldin.
"We're most excited about seeing when a driver does something really good," he said. "There are cases when our drivers get dragged into litigation, and the foregone conclusion is that the driver's at fault, but having the DriveCam video will make the situation crystal-clear, and get our driver back on the road quicker."
Falldin also expects to save money by creating a more efficient workflow. "We're now spending our coaching time where it's actually needed because the DriveCam program gives us a better understanding of driver behavior."
Based on driver feedback, Falldin says the company is using the forward camera but is not activating the inward, driver facing camera when capturing video footage of critical events.