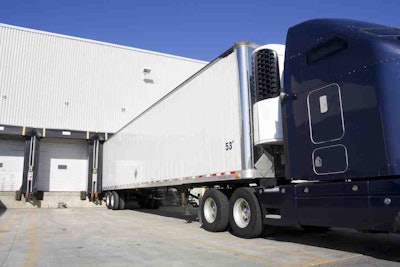 Transportation refrigeration units (TRU) are reaching heights of sophistication that rival the modern tractors that pull them across the highway.
And like their truck counterparts, TRUs have made many strides to throttle back fuel consumption while also maximizing their efficiency.
"There's no debate that refrigeration systems add to a hauler's overall fuel use," says David Kiefer, director of sales, marketing and product management for Carrier Transicold. "However there are dramatic differences in the way various models operate and how they consume fuel. The savings over the lifetime of the unit can be substantial."
Earlier this year, Boreas Nitrogen Cooling Systems unveiled a system that uses a liquid nitrogen spray to cool the cargo. When the liquid nitrogen mixes with the warmer air, it converts into a cold gas.
The system only operates when it's cooling the cargo and generates zero carbon emissions.
Tom Kampf, product manager for Thermo King, says changes in engine design have also helped boost efficiencies.
"We've moved away from a technology that used belts exclusively to power fans to directly coupling the compressor to the diesel engine," he says.
Such a change has allowed condenser fans and evaporator fans to operate at speeds independent of engine speed.
"Customers can operate the evaporator based on the type of load without having to adjust engine speeds," Kampf says.
"The reduction of mechanical parts from diesel-electric hybrid units [have also] significantly improved the sound quality," Kiefer adds.
Reefer units themselves aren't the only ones challenging the limits of thermal efficiency. Wabash National in February unveiled a prototype composite refrigerated van utilizing a new, proprietary molded structural composite technology.
Molded structural composites are used in a wide range of applications, including aerospace, automotive, marine and commercial construction, but Wabash says this is the first time the technology is being used in trailer manufacturing.
Brent Yeagy, group president, commercial trailer products for Wabash National, says in refrigerated van trailer and truck body applications, the molded structural composite technology provides up to 25 percent improvement in thermal performance and is up to 20 percent lighter compared to conventional designs, while improving puncture and damage resistance.
Wabash CEO Dick Giromini says the composite design of the trailer, which is slated to enter production in the next two years, also reduces trailer weight by upwards of one ton. Using the composite for the trailer's floor structure also raises the weight rating to 24,000 lbs. – a boost of up to 14,000 pounds – Giromini adds.
While the TRUs and trailers have evolved, Kiefer says so too have their controls, in many cases removing much of the guess work that goes into climate control and increasing ease-of-use for the driver and technician.
"These software-based devices have made temperature and airflow management far more sophisticated," he says. "Some can even be used to optimize fuel consumptions for any given cargo, while still providing the highest degree of product protection."
For instance, all the variables that can be selected for specific commodities can be pre-programmed into Carrier Transicold's APX Control system, enabling the driver to simply choose the commodity from a scrolling text list.
Similarly, Kampf says Thermo King's OptiSet program provides control over how the unit will operate with a specific set-point, and allows unit operation and product quality decisions to be made in advance.
"When a set-point is selected, the unit will always operate the same way," he says.
Additionally, Kampf noted customers are trending toward removing the TRU's alternator in favor of a more efficient electric battery charger, which he says "offers more battery life and is less wear on the engine."