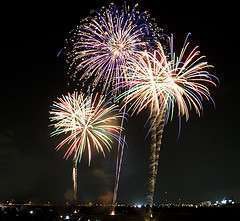 The American Pyrotechnics Association (APA) has requested additions to and deletions from the Federal Motor Carrier Safety Administration's list of motor carriers that have previously been granted Independence Day hours-of-service exemptions for 2015 and 2016.
Moreover, the group's July 4th period hours exemption, which allows drivers for 51 fireworks haulers to accumulate on-duty hours rather than face the rigid 14-hour clock, has been extended to 2020, five years from its original issuance; the change comes pursuant to stipulations in 2015's FAST Act highway bill.
The APA in its most recent request has asked FMCSA to remove four carriers from the exemption and add four others, keeping the total of exempted carriers at 51.
The exemption allows APA member carriers to extend the 14-hour on-duty window by excluding mid-period off-duty or sleeper-berth time of any length from their 14-hour on-duty time.
During the period of the exemption, which runs from June 28 through July 8 at 11:59 p.m. local time, drivers for the temporarily-exempted companies will not be allowed to drive after accumulating a total of 14 hours on-duty time, following 10 consecutive hours off duty, and will continue to be subject to the 11-hour driving limit and the 60- and 70-hour weekly on-duty limits.
With the passage of the FAST Act highway bill, all existing hours-of-service exemptions were extended to five years from the date the exemptions were granted, therefore APA's exemption is extended until July 8, 2020. FMCSA extended the exemption for the 47 remaining companies, and if it grants the exemption for the four companies APA requested be added this year, those companies would be included in last year's group so the exemption ends at the same time for all APA member companies.
FMCSA is seeking public comment on the amended exemption, which can be done by searching Docket No. FMCSA-2007-28043 at www.regulations.gov when the notice is published in the Federal Register on Monday, May 9.