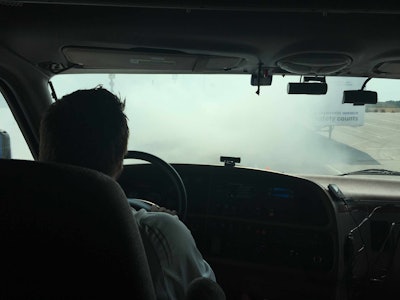 Home time and health issues are the predominant reasons truck operators leave the industry, according to survey results released this week by background check and drug testing firm HireRight.
In its annual 2016 Transportation Spotlight, HireRight reports that of the 3,500 carrier personnel surveyed, respondents said 41 percent of drivers leave to spend more time at home, and another 21 percent report leave because of health-related factors.
HireRight says the findings should prompt carriers to take a close look at health and wellness programs, which, in addition to aiding in driver retention efforts, also help lower health care and worker's compensation spending.
Per HireRight's survey, 45 percent of respondents said their company does not offer a driver wellness program at all. However, 35 percent reported offering safety and accident prevention programs, 21 percent said they offer free flu shots and 18 percent said they offer smoking cessation programs.
"Driving is a physically demanding profession and getting proper rest, eating right and maintaining an exercise routine is a challenge due to the nature of the job," said Steven Spencer, manager director of transportation, HireRight. "The workforce is aging and attracting younger drivers remains a challenge due to the trucking lifestyle. The transportation industry is realizing that wellness programs and other methods of improving the quality of life for drivers, while relatively new to motor carriers, are effective ways to attract and retain drivers and boost their overall health, well-being and retention."
Of no surprise, just shy of 60 percent of the survey's respondents said driver recruiting and retention was expected to be their company's top challenge in 2016.
To that end, 51 percent of surveyed carriers reported they have invested in driver pay increases in an effort to attract new drivers or keep current ones. Forty-nine percent said they had upgraded their fleet's equipment as a driver retention tactic, and 41 percent said they offer driver recognition and rewards programs.