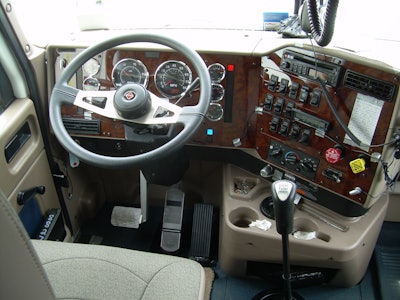 Stay Metrics announced new enhancements that focus on preventing early driver turnover.
Early turnover is a major concern for businesses in any industry, especially in trucking with the acute shortage of qualified job applicants and high costs and risks of replacing skilled driving positions.
Industry studies show that nearly one-third of drivers quit within the first 90 days, and half within the first six months on the job. The primary cause of early driver turnover is unmet, and in many cases, unrealistic job expectations, according to ongoing research by Stay Metrics of data from its base of motor carrier clients.
"As awareness of the root cause of early driver turnover has grown, motor carriers are changing their recruiting and onboarding practices to set more realistic expectations with drivers for earnings, home time and other aspects of the job," says Tim Hindes, chief executive officer of Stay Metrics.
With the new enhancements to Stay Metrics' suite of orientation and onboarding surveys, Hindes says motor carriers can proactively address situations where drivers are at risk of quitting due to mismatched expectations. The company provides the surveys separately or as part of a full service that includes an online driver rewards, engagement and analytics platform used by motor carriers to retain more of their best drivers.
Stay Metrics conducts a 7-Day Orientation survey and a 45-Day Onboarding survey on its clients' behalf, as a neutral third party, to gather feedback directly from new drivers on their job expectations, experiences, and satisfaction levels at critical periods in the employment lifecycle.
A new enhancement to the 7-Day Orientation survey compares driver expectations to reality for pay. The client receives an immediate e-mail alert if the driver's response is not within the pay range communicated in the recruiting and orientation process. Carriers can connect with the driver and discuss possible expectation disconnects.
Another recent addition lets carriers select questions that are tailored to commodity sectors like dry van, flatbed or tanker. Survey questions are standardized and asked in the same order. With these enhancements, Stay Metrics provides comparative data that allows clients to track their success of managing driver expectations, among other areas, against their competitors.
One of the most important components of turnover prevention is early intervention, Hindes says, and the latest version of the surveys include a final question that asks drivers if they would like to be contacted by their company to address any questions or concerns. An immediate alert is sent to the client if drivers answer "yes," which so far has been 15 percent of respondents, he notes.
"Combined with the other insights provided through the surveys, the alerting tool is an effective way for carriers to reach out to drivers to prevent early turnover," Hindes says. "It allows carriers to quickly identify those drivers who are looking for a conversation or intervention. Most often the problems are small ones, but listening to the driver and quickly responding might be all it takes for the driver to say 'I've picked a carrier that really cares about me.'"