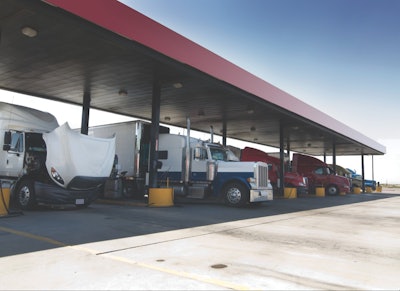 Spec'ing trucks for fuel efficiency has saved fleets upwards of $9,000 per truck per year, Mike Roeth, executive director of NACFE, said at the CCJ Spring Symposium Tuesday in Birmingham, Ala.
Aero and efficiency technologies, Roeth adds, have helped battle back miles per gallon losses caused by EGR engines between 2004 and 2007.
Without adoption, Roeth says, a fleet-wide MPG average could have fallen below 6 MPG while they currently hover near 7 MPG.
Even with diesel prices stabilizing in the $2 range, Roeth says most fleets continue to embrace fuel efficiency with 43 percent of fleets using some kind of efficiency technology.
"Most of these fleets are sticking with the decisions they made," Roeth says.
The implementation of Phase 2 regulations will push fuel economy standards to a new limit, but proposed rule making expects a 2 year payback for fuel technologies with a diesel average of $3.80 per gallon.
Roeth says meeting the new standard will take a mixture of refining technology and innovations.
"It will take not only high adoption that are currently available, but creating new technologies within this time period," he says.