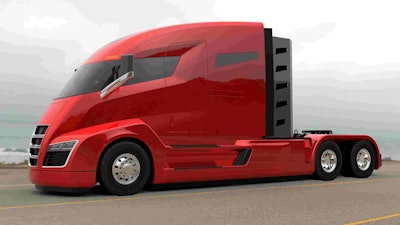 With diesel prices continuing to hover near reasonable levels, much of the shine on alternative fuels has faded. However, that isn't deterring a Salt Lake City-area startup from pinning its fortunes on alternative power – namely electric power.
Earlier this month, Nikola Motor Company (NMC) announced its intent to roll out an electric Class 8 truck that features 2,000 horsepower, 3,700-plus ft. lbs. of torque before gear reduction and a range of 1,200 miles.
There are a lot of eye-popping numbers in that sentence. Tesla's Model 3, whose coming launch has been heralded like a returning war hero, promises a range of just 200-plus miles.
Thanks to an on-board turbine, NMC founder Trevor Milton is promising six times more from his Nikola One tractor.
The majority of the truck's components are being developed by NMC, but the company turned to Meritor for help in co-designing the industry's first-ever independent suspension.
Nikola One's fully electric 335 horsepower motors feature a dual gear reduction at every wheel (6×6) and are powered by a liquid cooled lithium-ion battery pack, which is charged by the onboard turbine when needed. Milton says there is no need to ever plug in the unit.
Milton adds Nikola One was designed with the driver in mind. Its cab is 30 percent larger than those found on more traditional trucks, and its aerodynamics reduces the drag coefficient by nearly 5 percent over most tractors currently on the market.
Nikola One's cab features a sliding mid-entry door, a full-size fridge and freezer, electric climate controlled cabin, 15-inch touch screen infotainment display, 10-inch instrument cluster display, 4G LTE internet and Wi-Fi, over the air software updates, panoramic windshield, sunroof, two full size beds, microwave and 42-inch television.
Plush creature comforts and technology like this – a fuel agnostic turbine, carbon fiber panels, a 320 kWh battery pack and standard platooning capabilities – don't come cheap.
The sticker price on a Nikola One will range from $350,000 to $415,000, depending on options. That's a tough hurdle to clear for fleets making a couple of bucks per mile.
Milton isn't the first to put a range-extending turbine in a heavy truck. Peterbilt did something similar with its Walmart WAVE concept truck a few years ago.
Where Milton beats the likes of Paccar to the table is in his commitment to sell one soon. While Pete's WAVE tractor is still a concept, Milton says he expects to begin deliveries to customers who plopped down a $1,500 deposit within the next 24 to 36 months.
I'm a big believer in turbine technology. I think that is going to become a major player in the quest for zero emissions, infinite range or wherever the Environmental Protection Agency is leading us. I also believe we get closer to the major integration of electric motors every time you turn the page on your calendar.
But I'm not a believer in a half-a-million-dollar sticker price.
You could get Tesla's first generation Roadster for $130,000. That put the electric car with a 0 to 60 time of 3.7 seconds in the lower end of a bracket that includes the likes of Lamborghini and Ferrari.
Nikola One's sheer uniqueness means there isn't a good comparison but considering that you can add nearly every option to any Paccar, Volvo Group or Daimler-made aero package truck and still never sniff $400,000 shows there's work to be done on the consumer side, especially with shippers beating up their fleets for lower rates and further squeezing their profitability.
You may not pass a Nikola One on the highway anytime soon, but I think it will play a role in ushering out technologies we will come to see as standard in the future.