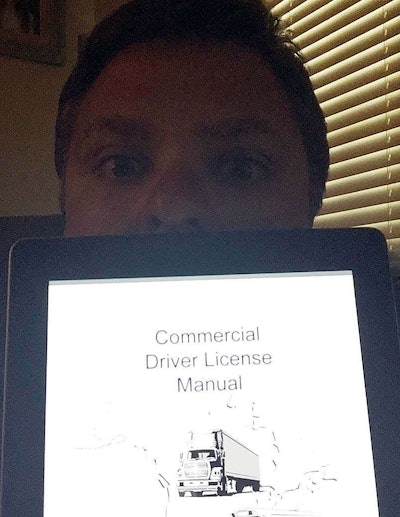 One hundred and fifty four pages. 154. One hundred. Fifty. Four. That's the number of pages in the Commercial Driver License Manual.
As of this writing, I'm on page 8 – or 5 percent of the way through.
When I took on the role of Equipment Editor for CCJ earlier this year, I made a commitment to getting my CDL for a number of reasons, not the least of which is the up to $5,000 fine for operating a Class 8 truck without one – a rule which you will find on page 1-4 of the CDL Manual.
Depending on which news outlet you believe, trucking is short some-odd thousand drivers and considering how hard it was to even begin this process, I can see why. If you have a job and are trying to go through this on your own, it's almost impossible to be good at both. Going through this is probably a lot easier if you have the backing of a fleet or another driver but if you're just trying to break into the business, you won't find it an easy process.
For example, finding the book. Did you know you can't just show up at your local DMV and get a CDL manual? Alabama spends billions of dollars to block off 40 miles of Interstate while they pave 6 miles of it over a 12 month period but can't send couple bundles of CDL manuals to the small country courthouse in the county where I live. I was almost 90 miles away from the closest print edition. Thank goodness for Google and an iPad.
Passing the written test. I'm not this far into the process yet but it's my next step. Well, taking the written test is the next step. Passing it, hopefully, is close behind. I haven't taken a written test since college, and I wasn't particularly good at them back then. When you have a job and can't enroll in a dedicated CDL school, you have to find time to read, study, take the practice tests, and work, and play with your kids, and cut your grass, and everything else. Life is hard, y'all.
And that bring us to … finding the time. My day job is writing things for you to click on. (Thanks for that, by the way). Dedicating three weeks or more to a traditional CDL program just isn't practical for my circumstances. If I was looking for my CDL so I could change careers, I would have to be in the kind of financial condition that would allow me to quit my job, pay for school and train on the road. That can be a tough hurdle to clear these days unless you join up with a company willing to sponsor you. That way you won't have to …
… find someone who can legally help you. If I had tied up with a carrier, I would probably have access to all the equipment I need – namely something to drive and someone to show me how to keep it off of a car. Once I pass the test with the equivalent of a learner's permit, I have to find someone who will let me train with them. Fortunately, I have a friend who is chomping at the bit. I have no idea why other than he's been a good friend for a long time. God bless him and his gearbox. I just hope we're still friends after this is over. I haven't driven a manual transmission since the Clinton administration – the guy Clinton, not the lady in Donald Trump's crosshairs – and it wasn't 10 or 13 speeds. The prospect of me embarrassing myself here is real.
I'm all for rigorous testing for anyone who wants to earn a CDL. I commute 70 miles one-way to my office and see plenty of people who struggle to drive on four wheels. There's no way I'd be in favor of giving them 14 more without further scrutiny.
I'm looking forward to the challenges that lie ahead of me.
I'll continuously blog my "quest for a CDL" as I navigate milestones through the process, and I hope you'll find it a humorous journey from the prospective of a guy who just wants to learn to drive – legally.