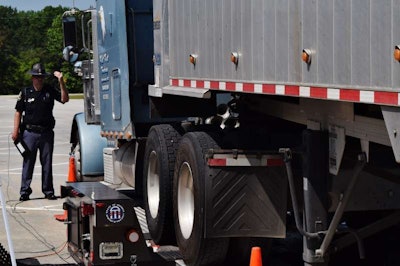 Concerns about the underlying CSA data-related issues aside, would the Federal Motor Carrier Safety Administration's new Safety Fitness Determination carrier rating rule actually allow the agency to expand the number of unsafe carriers it targets each month?
According to a fresh report issued this week from private carrier rating firm Vigillo, the answer is: Not really.
Vigillo's report concludes there's just a 0.4 percent difference between the number of carriers the agency can review and place out of service under the new rule, compared to its current system. Vigillo compares such a change to a 250 pound person dropping a single pound or a marathon runner shaving off 2 minutes off of a 260-minute run. "If we reduced the headcount of Federal Government employees of 2.7 million by 0.4 percent, we'd still have 2.7 million," Vigillo's report states.
FMCSA's Safety Fitness rule, published as a proposed rule in January, would usher in an era in which FMCSA relies heavily on roadside inspection and violation data to determine whether a carrier is fit to operate. The system would move FMCSA away from its current system of on-site and off-site investigations of carriers conducted by state and federal personnel. The current Satisfactory, Conditional and Unsatisfactory rating system would be replaced with a simple Fit or Unfit determination. Such a determination wouldn't need an in-person compliance review or investigation; FMCSA could tag a carrier as Unfit and place them out of service simply with the data at its disposal.
A carrier's safety performance would be tied to a fixed failure threshold established in five of CSA's Safety Measurement System BASICs — Hours of Service, Driver Fitness, Unsafe Driving, Vehicle Maintenance and Hazmat. Failure in any two would result in an automatic Unfit rating.
The agency says the rule would allow it to target 75,000 carriers a month — about 150 times more than it can now.
Vigillo says that while it's true that many more carriers under the SFD proposal meet the minimum thresholds for intervention (11 inspections, as proposed in the rule), only 67 DOT-registered carriers would be identified as Unfit to operate, once non-English speaking driver violations are removed from the system.