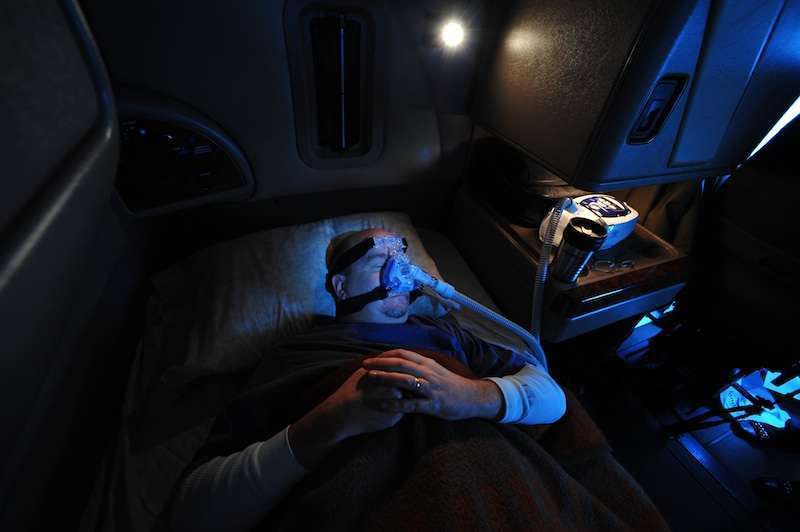 A study released May 26 sheds new light on the costs borne by truckers when referred by their medical examiner for sleep apnea screening and the potential consequences of a rule that would implement industry-wide standards for screening and treating obstructive sleep apnea.
The report, produced by the American Transportation Research Institute, comes with just shy of two weeks left in the Federal Motor Carrier Safety Administration's fact finding mission regarding the development of a potential sleep apnea rule.
The agency's holding a public comment period seeking feedback to 20 questions related to the financial and logistical challenges a sleep apnea screening rule could place on the trucking industry. It's also held several public listening sessions nationwide to gather input on such a rule. Click here to submit feedback to the agency.
ATRI's report, produced via surveys of drivers, concluded that a sleep apnea testing referral made by a medical examiner can cost a trucker upwards of a $1,000 in out-of-pocket expenses — more than a week's way, the report notes.
Of drivers who reported being referred for a sleep study, 53 percent said they paid some or all of the expenses for the test out of pocket, running at a $1,220 average. Uninsured drivers were at an even greater disadvantage relative to out-of-pocket expenses, ATRI says, with 61 percent of uninsured drivers reporting out-of-pocket expenses greater than $1,000 when seeking sleep apnea screening.
On the contrary, 32 percent of drivers with health insurance reported expenses of more than $1,000 for testing.
Other key findings from the report include:
•Among drivers reporting time away from work associated with sleep apnea screening, 41 percent indicated days off ranging from 1-30 days.

•Driver-perceived treatment efficacy varied by OSA severity. As OSA diagnosis severity increased, drivers experienced more positive CPAP treatment effects. For example, drivers diagnosed with severe OSA and being treated with CPAP reported increased amounts of sleep (84%), feeling better when they wake up (71%) and lower blood pressure (75%).
Conversely, among the 91 percent of drivers being treated with CPAP — despite a diagnosis of mild sleep apnea — less than a third (32%) experienced improved sleep as a result of CPAP treatment.
•Among drivers who have had sleep studies and those who have not, there is concern about the use of neck circumference and Body Mass Index (BMI) as measures to refer drivers to sleep studies. Additionally, among drivers who have been tested, 64 percent believe that the DOT guidelines for referring drivers are too broad and that medical examiners do not follow the guidelines for referrals to sleep studies.