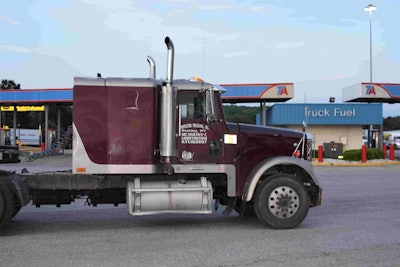 Meet the average company driver. He's in his mid-50s, white and has an annual salary in the high 40-thousand-dollar range. He either loves or is at least satisfied with the career he's chosen, but there's a one-in-four chance he leaves his current employer by the end of the year.
Only 4.5 percent of company driver respondents to the Truckers News survey were less than 35 years old.
His typical one-way length of haul is around 500 miles. He's paid by the mile but would prefer to be paid by the hour. He's likely to recommend a career in trucking to a friend but doesn't want his children to haul freight for a living.
These are the findings of CCJ's sister publication, Truckers News, in its "2016 Job Perceptions and Challenges Survey" completed in April. The e-mailed survey to Truckers News subscribers received 407 responses, 71.3 percent (roughly 290) of which identified themselves as company drivers.
The survey results underscore the aging driver workforce dilemma. It is a problem today, but it soon will be the biggest crisis in the trucking industry as the demand for drivers continues to increase and their average age rises with every flip of the calendar.
By some estimates, the trucking industry will need to hire an additional 240,000 drivers over the current headcount by 2022 as a slew of pending regulations, including the electronic logging device mandate and drug and alcohol clearinghouse database, further constrain the labor market.
"Efforts to counterbalance a driver shortage need to look at increasing the driver pool to keep up with growing demand, not simply prevent it from shrinking," said transportation economist John Larkin, managing director for Stifel. Of course, that's easier said than done. The million-dollar question remains: How will fleets attract and retain new, younger drivers?
Many fleets have shifted to a more regional freight strategy to allow drivers to get home more often, an important consideration for those with young families. Others put an emphasis on outfitting their fleets with late-model rigs boasting the latest technology, providing drivers with the comforts of home while on the road.
Some fleets have targeted military veterans with varying degrees of success. But it takes more than a website touting "We Hire Veterans" to have a meaningful impact in your recruiting efforts.
TMC Transportation, the 2,587-truck flatbed behemoth, is perhaps the best example of a trucking company capitalizing on the veteran recruiting movement. The Des Moines, Iowa-based and employee-owned carrier pledged in 2012 to hire 500 veterans by 2014 through the Hiring Our Heroes program and since has committed to hire an additional 500 by the end of this year. Today, more than 35 percent of the company's driver workforce is comprised of military veterans.
According to the Truckers News survey, 51.7 percent of company driver respondents said they would recommend a truck-driving career to a friend. When asked why, the majority of answers revolved around freedom, traveling around the country, security, a steady income stream and no management oversight. Of the 48.3 percent of company driver respondents that wouldn't recommend truck driving, the biggest reasons were low home time, low pay, increasing regulations, traffic congestion, infrastructure and discourteous passenger car drivers.
When asked to list their biggest challenges with personal issues, company driver respondents listed eating healthy (59.0 percent), finding time or discipline to exercise (54.5 percent) and maintaining family relationships (38.3 percent) as the top three. A focus on helping company drivers overcome these issues will help fleets not only attract but also retain the next generation.
Whether your sights are set on military veterans, another largely untapped labor pool or fresh-faced 20-somethings right out of CDL school, carriers that are able to hone their recruiting message to appeal to candidates' wants and needs will collect the most resumes. Those who are able to articulate that truck driving can be a rewarding career and put in place lasting changes to help drivers thrive are the ones that ultimately will succeed.