Editor's note: This is the second part in a four part series. Click here to see the other three parts of the series.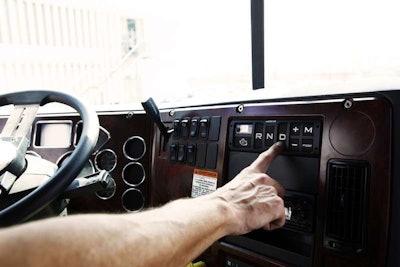 With his concrete mixer and rock trucks often finding themselves fighting Seattle traffic en route to a jobsite, Lo Priore also has begun spec'ing Allison's 4700 automated transmission.
"I had a couple guys that wanted to quit [versus using the AMT]. Now the response is they don't want to shift, especially in the mixer industry," he says. "I'll never buy another clutch again. That was probably one of the smartest things I ever did [going with the Allison 4700]."
Dorwart adds he sees a bright future for AMTs like the Mack's mDrive HD thanks to weight savings, cost and improve fuel consumption.
"For many applications they make perfect sense," he says, "a great balance of features that opens the driver pool for those with less experience."
A decrease in demand for manual shifting prompted Ford to drop manual availability altogether across its truck lineup.
"We no longer offer manual transmissions in F-Series trucks because demand for manual transmissions has fallen to very low levels," says Mike Levine, Ford's Truck Communications Manager. "At the same time, we've improved the robustness and fuel efficiency of our automatic transmissions."
Year-to-date, Cook, says approximately half of Peterbilt's Class 8 conventional trucks – both vocational and on-highway – have been spec'd with an automated or automatic transmission.
"Two major factors driving this growth are improved fuel efficiency and improved driver comfort with less fatigue," he says. "Regarding the latter, the ease of operation with automated and automatic transmissions allows customers to recruit drivers from a larger pool."
David Hillman, vice president and general manger for Navistar's vocational lineup, noted the transmission isn't the only component getting a heavy dose of automation. The overall automation of the powertrain itself has emerged as a trend, he says.
"I believe the main reason behind [powertrain optimization] is for driver comfort, retention and recruitment," Hillman adds. "I think there certainly is some efficiency gains, but it's more an outcome than an input to the equation."
Mary Aufdemberg, director of product marketing for Freightliner Trucks, says she's seeing more optimization between the engine and transmission, as well as more electrical integration of complex body and truck electronics using features such as the SmartPlex multiplex electrical system.