Editor's note: This is the first part in a four part series. Click here to see the other three parts of the series.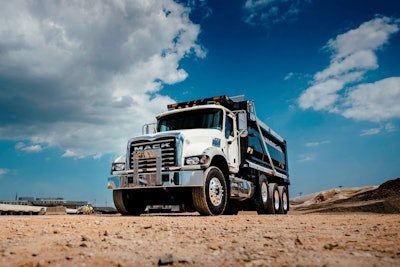 Generations ago, vocational trucks were about as basic as you could get; a steering wheel and three pedals.
Trucks that were meant to be battered on the jobsite got very few options not designed for moving payload, but the quest for driver retention and the trickle down of available technologies has begun to change how vocational trucks are spec'd for the job.
"Years ago, if you needed a truck you would go to the dealer and buy something on the lot," says Ralph Lo Priore, director of fleet assets and processes for Stoneway Concrete. "You rarely had a guy who would spec his own truck."
Customizing a truck, Lo Priore says, has helped the company cherry-pick the technologies it wanted to adopt that would most benefit its 85 mixers, 65 dumps and 20 tractors.
"We look at the weight savings seriously while considering the engine, axles and body," says Eli Carro, president of EAC Transport, adding his company prefers aluminum bodies but often compromises with steel due to upfront costs.
"The biggest thing I'm looking at is weight savings versus longevity," Lo Priore says, adding a decision years ago to go with a lighter dump body resulted in an accelerated replacement rate of the bodies themselves, negating any payload gains. "We're always trying to figure out what could be the possible payload and if we make it lighter; what is the balance ratio of longevity and your unladen weight."
Curtis Dorwart, Mack Trucks' vocational products marketing manager, says the continued growth of technology has made it possible for smaller engines to do the work of what used to be the domain of 15-liter engines, enabling the use of lighter engines that develop lots of power.
"A 13-liter engine, with the proper power band, can rival a 15-liter engine in many vocational truck applications," says Kenworth Chief Engineer Kevin Baney.
Lo Priore says he took advantage of weight saving potential by switching from a 13 liter Paccar engine to an MX-11.
"That was a 400 pound savings by doing nothing," he says.
Charles Cook, Peterbilt's marketing manager for vocational products, says habits have shifted away from spec'ing the biggest and most powerful engine, with a preference to now find the right engine for the job.
"Customers realize the benefits and lower costs of spec'ing an engine that has the right horsepower and torque to get the job done," he says, "particularly if they're in weight-sensitive applications."
Weight savings aside, Cook says drivers are also looking for trucks to operate more quietly, allowing them to run for more extended periods.
"That's why more vocational customers are looking for smaller, lighter engines that run quieter and offer enhanced fuel economy," he says.