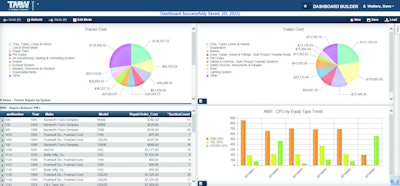 TMW Systems rolled out Software-as-a-Service (SaaS) versions of its business intelligence applications for commercial and private fleets, 3pls and other transportation enterprises: TMW Data Warehouse, Data Warehouse Explorer and Visual Analytics.
The new cloud-based versions are available on a subscription basis to businesses using select TMW transportation management software and will be available to new customers in the coming months, the company announced.
Previously available only as on-premise solutions, TMW Data Warehouse and Data Warehouse Explorer can access operational data from various sources and answer questions for virtually any area of business, TMW says. Users can blend and analyze data from multiple areas – operations, maintenance, finance, mobile communications and more.
TMW's Visual Analytics allows for drag-and-drop creation of visuals and dashboards of many interdependent factors driving business performance. Users can drill down to isolate specific issues and identify corrective actions.
The new cloud versions gives transportation businesses of all types and sizes access to business intelligence, says TMW Systems President David Wangler.
"Big data can help virtually any transportation business identify and eliminate deeply hidden operational constraints and other issues," he said. "Our new and growing portfolio of SaaS products brings these capabilities to a much larger audience of transportation businesses, including those that might not have the internal IT resources or budget to support an on-premise model."