Clean diesel trucks now make up 41 percent of all medium- and heavy-duty diesel commercial trucks in the U.S., according to new Diesel Technology Forum (DTF) analysis of IHS Automotive vehicles in operation statistics.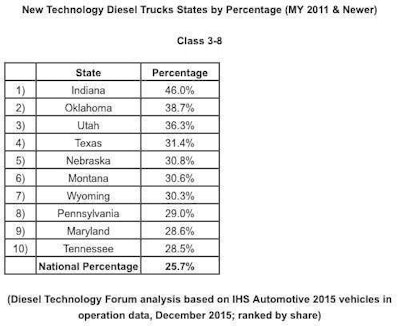 Roughly 4 million of 9.5 million diesel trucks, according to the data, are from model years 2007 through 2015, which are required to meet particulate emissions levels of no more than 0.01 grams per brake horse-power hour – a level near zero.
"Because diesel overwhelmingly dominates the heavy-duty truck sector and is also the number one power source for medium-duty vehicles, the transition to newer generations of clean diesel technology is significant," says Allen Schaeffer, the Executive Director of the Diesel Technology Forum. "Beyond the clean air benefits, Model Year 2010 and newer trucks also achieve three to five percent improvements in fuel economy and lower emissions of greenhouse gases."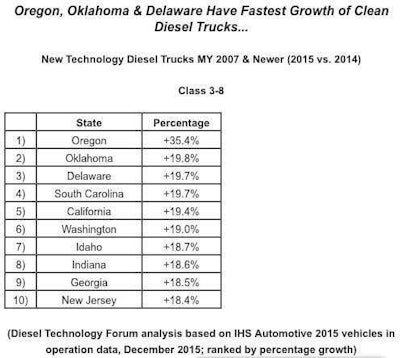 In Indiana, Utah, Oklahoma and Texas, more than 50 percent of the registered diesel trucks are newer cleaner trucks, analysis reveals. In 2015, Oregon had the largest increase in the country of newer diesel truck registrations with a 35 percent jump over 2014, Schaeffer notes.
"California has the largest fleet of commercial truck registrations on an absolute number basis," he says. "However, it ranks near the bottom for adoption of newer trucks on a percentage basis, based on our analysis."