CCJ's Indicators rounds up the latest reports on trucking business indicators on rates, freight, equipment, the economy and more.
---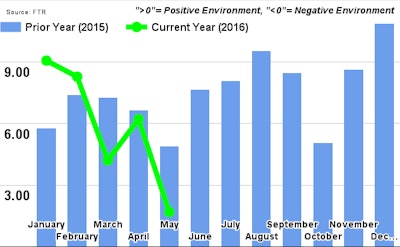 Trucking Conditions Index skids to five-year low: Market conditions for carriers have fallen to their worst since 2011, according to the May reading of the Trucking Conditions Index from FTR.
FTR chalks the low reading up to cheap rates and excess capacity. Coming regulations — such as an electronic logging device mandate and potential hours of service changes — could restrict capacity and put upward pressure on rates and the Trucking Conditions Index, FTR says.
FTR's Jonathan Starks says the current environment for carriers is mostly neutral — neither favorable or bad. "[Carriers'] revenues are down across the board and that makes business operations more difficult, but freight levels are stabilizing and capacity-sapping regulations are coming down the pike, either this year or next," he says.
---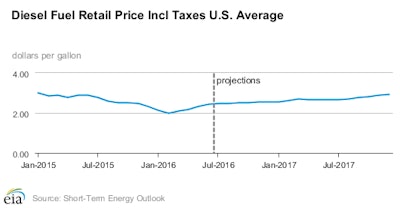 Diesel prices expected to jump in 2017: On-highway diesel fuel pricing is expected to jump 35 cents in 2017 per gallon from the projected average for 2016, according to the Department of Energy's monthly Short Term Energy Outlook.
The DOE pegs 2016's price average at $2.36. It projects diesel to average $2.71 a gallon next year.