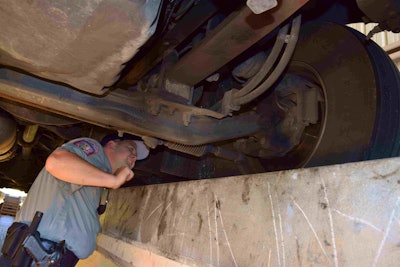 The Federal Motor Carrier Safety Administration will publish a notice in the Federal Register on Friday, July 22 that amends several provisions in the Federal Motor Carrier Safety Regulations.
The amendments affect the "Parts and Accessories Necessary for Safe Operation," and the "Inspection, Repair and Maintenance" portions of the FMCSRs and stem from petitions from the Commercial Vehicle Safety Alliance, the American Trucking Associations and the National Transportation Safety Board.
The amendments to the regulations are generally minor, and FMCSA says they "do not involve the establishment of new or more stringent requirements, but instead clarify existing requirements to increase consistency of enforcement activities." Some of the changes apply more directly to drivers and carriers than others, including:
Deleting the requirement for trucks to have a rear license plate light when state law doesn't require the vehicle to have one.
Clarifying a regulation regarding when violations or defects noted on a roadside inspection report need to be corrected. FMCSA said it's clarifying the regulation to make it clear that any problems found during a roadside inspection have to be corrected, or a certification must be provided stating the repair is unnecessary, before the truck is re-dispatched.
In the "Periodic Inspection" section of the FMCSRs, removing language relating to roadside inspections because roadside and periodic/annual inspections should be separate and not considered equal. With this amendment, roadside inspections will no longer meet the requirements of an annual inspection, and carriers will be responsible for making sure a periodic inspection is completed every 12 months, even if a roadside inspection is done.
Prohibiting the use of speed-restricted tires on tractors regulated by FMCSRs unless the use of the tires is "specifically designated by the motor carrier." FMCSA said speed-restricted tires shouldn't be used in excess of 55 miles per hour for extended periods of time.
Other amendments made to the FMCSRs mainly just clarify the regulations for enforcement officials for use during inspections. These include:
Adding a definition of "major tread groove" to clarify what constitutes the major tread groove, as well as adding an illustration to the FMCSRs to indicate the location of tread wear indicators or wear bars signifying a major tread groove.
Updating the Minimum Periodic Inspection Standards to include a requirement to inspect anti-lock brake systems and automatic brake adjusters. These provisions were added to the FMCSRs when ABS were mandated in 1995, but they were not included in the section used as the periodic inspection guide, the Minimum Periodic Inspection Standards.
In accordance with the amendment to the "Periodic Inspection" section, FMCSA also wants to remove language regarding a "random roadside inspection program" in the FMCSRs for "Inspector Qualifications."