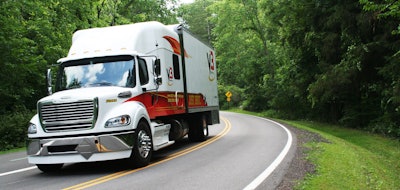 In the first quarter of 2013, Bob Poulos and John Sliter started V3 Transportation. Every year since, the company has seen growth in terms of revenues and truck count double, and they expect that trend to continue despite the current freight recession and driver shortages.
Poulos, the chief executive officer, says the company's only physical assets when it began were cell phones and laptops. It started as a brokerage operation and sourced capacity using the Sylectus transportation management system and protected load board from Omnitracs called the Alliance network.
The Omnitracs cloud-based TMS and network is specialized for the expedited freight market.
Poulos brought in customers from a previous career managing sales for large fleets. Sliter was a former chief financial and chief executive of Panther II Transportation, and was running an equipment leasing company prior to becoming the president of V3.
After three months of brokerage operations, V3 had a freight network and purchased its first trucks. Building relationships with small fleet owners, independent operators and company drivers has been instrumental for growth, Sliter says.
To finance the expansion, V3 Transportation teamed up with Craig Amato, the founder of Panther II Transportation, to be the senior investor and advisor.
"I saw an extreme opportunity to grow the company very quickly. We are looking at a number of acquisitions and adding new platforms and vertical services to the business," he says.
At present, V3 Transportation, has 150 trucks and executives believe that will increase to 200 trucks by the end of 2016.
During the first week in August, V3 Transportation moved into a new office in Seville, Ohio, to start the next chapter of growth. The company currently employs 48 professionals within operations, customer service and other office positions to support its fleet of 192 expedited drivers.
Sliter says that core to its success is its philosophy to serve drivers as customers. Whereas customer service reps focus on the needs of external customers, its fleet manager team is in charge of keeping internal customers happy — the drivers.
After purchasing the new office, V3 spent more than $650,00 in renovations that took six months to complete. Highlights include a driver lounge with showers, washers and dryers.
With its fast growth and new office with driver amenities, Sliter says V3 Transportation resembles the "Google of the expedited business."