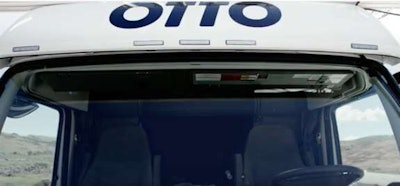 Trucking technology upstart Otto, who has developed a retrofit package that allows heavy trucks to drive autonomously on the highway, was acquired by Uber Thursday in a move that unlocks the prospect of freight movement capabilities for the San Francisco-based ride sharing service.
"Basically [Uber and Otto are] starting a commercial transportation business," says Otto founder Lior Ron. "Specifically we're going to build on Otto's capabilities for self-driving trucks and introduce other ways to help the freight industry and truck drivers."
The company's approach to trucking is built on the concept of self-driving trucks, which Ron says provide increased safety. Secondly, Ron says the companies expect to develop an on-demand platform that matches drivers with loads and shippers with carriers.
Self-driving trucks, Ron says, provide safety, predicability and the ability to keep the trucks on the road. The platform, he adds, is a way to help boost productivity, aid carriers in finding freight and improve efficiencies in marketplace.
"The self-driving piece is something that can increase capacity over time," Ron says. "We see the platform as a way to help drivers and fleets and owner ops to be more productive. We can use the know-how that Uber has on the passenger platform side and use that to evolve a similar solution on the commercial side."
To-date, Ron says Otto has been focused on developing its autonomous technologies but with the Uber partnership, will focus on building a platform with feedback from trucking stakeholders on their "pain-points."
"We're starting essentially today," he says. "We want to help the industry as a whole. We want to make the highway safe. We want to help people find freight efficiency."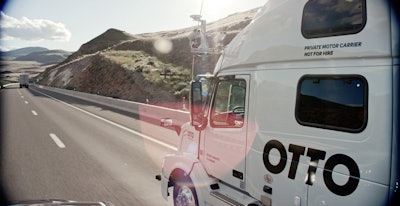 Once the platform is rolled out, Roy said he didn't see autonomy as being a requirement for carriers to participate. However, he said it is a key component in maximizing the efficiencies the company seeks to provide.
"[By using Otto's autonomy and the Uber platform], we can provide more information on where the truck is and we can plan the route more productively," he says. "We see those technologies as working together."
This isn't Uber's first foray into trucking. Company co-founder Garrett Camp is an investor in Convoy, an on-demand service that allows shippers to request a truck, get price quotes and track the cargo to its delivery.