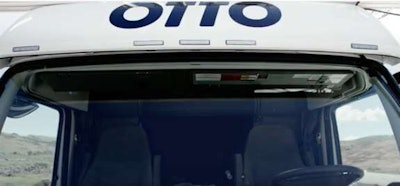 Some of the folks involved in Google's development of self-driving cars are turning their attention to the trucks you're driving.
An article in The New York Times today details how a new San Francisco-based company called Otto is outfitting Class 8 trucks with sophisticated spinning lasers, cameras and radar, which take over many of the driving chores.
Otto, a company founded by ex-Google engineers Anthony Levandowski, Lior Ron, Don Burnette, and Claire Delaunay – and with some help from former employees from Tesla and Amazon – tested one of their Volvo trucks outfitted with its self-driving gear in Nevada last weekend, according to The Times.
In an article on Medium, the company said: "It's time to rethink the way we move goods on the road."
"To speed the adoption of self-driving technology, we began by equipping existing trucks on the road with our unique self-driving kit, designed to empower truck drivers to drive more safely and efficiently. We are developing a suite of sensors, software and truck enhancements coming together in a product that can be quickly outfitted on existing trucks."