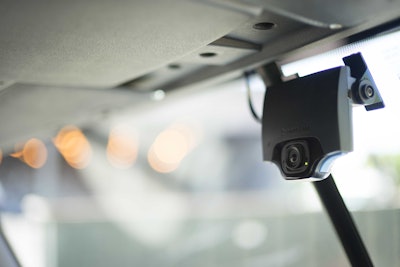 DriveCam maker Lytx announced Sept. 29 a new "always-on" video platform for the trucking industry, dubbed Unisyn.
The new video telematics platform works side by side with the DriveCam platform, Lytx says, and are designed to offer complementary features, such as using DriveCam's exception-based video to help prevent collisions through driver coaching and using Unisyn's always-on video to track, monitor and act on fleet and field operations.
The Unisyn platform features always-on access to up to seven days – or more, depending on the user-chosen resolution — of cloud-connected video. Carriers can access, review and manage video from their fleet in real time or a few days after an incident has occurred.
The Unisyn system employs a bevy of camera systems, including forward-facing cameras, in-cab cameras, side-view cameras, cargo interior cameras and more, depending on how many cameras fleets want to use.
In addition to choosing which cameras and where they're placed on a vehicle-by-vehicle basis, Unisyn users can tailor their program to their operation via event recorder sensitivity, video tags to help organize and catalog recordings and via multiple methods of video retrieval, Lytx says.