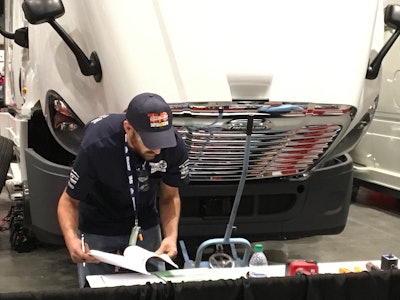 When I was a junior in high school, I started looking for a job.
The most logical place to find one at the time was the local newspaper. You remember those, right?
Somebody used to ride through your neighborhood and throw them in your driveway several days a week, if not everyday.
I started my career in newspapers and spent more than a decade providing the news and classifieds to people all over Alabama. I still think newspapers are a great and viable source of information, but the fact is reading habits are changing.
Our own internal data suggests thousands of you will read this in the print issue of CCJ, while thousands of others will read it on ccjdigital.com.
The employees of today, and tomorrow, are not combing the classified en masse like I was in the mid-90s.
"We're going to have to get it out there in social media or a lot of your job search websites because that's where they're going," says Derek Southerland, fleet maintenance manager for FedEx Freight
Southerland and several of his peers spoke last month at the ATA's Management Conference and Exhibition in Las Vegas on the topic of a looming shortage of technicians.
All agreed that in the quest to find them, you have to hunt on their grounds and not on your terms.
George Arrants, program director for WheelTime University's coursework and training, has long been a proponent of getting involved in the classroom, from high school vocational programs up through trade and technical schools. But it's not enough to speak with students today. You have to connect with them. That's why Arrants recommends sending some of your higher performing young techs to talk to classes, especially if they graduated from that particular program.
They need to see someone who looks like them and talks like them; someone they can look at and say "that could be me in a year" not "that could be me in 30 years."
From there, Arrants says, students can get first hand information from a guy or gal who is working their way up what he calls the "career lattice."
"We don't have a career ladder, we have a career lattice," he says, "With that foundation education, you can go anywhere [in the trucking industry] you want."
A diesel technician's job is about as an advanced technological career field as anything on the market and hits just about every major push in the STEM (science, technology, engineering and mathematics) curriculum. But that often is undersold against the stigma that it's a "greasy" job.
"The first letter of STEM is science," says Greg Settle, director of corporate and strategic alliances at the TechForce Foundation, which helps financially students enrolled in a technical program nationwide. "We all know about it, but outside of our industry, how many people know about it?"
There are dozens on tiny computers on a truck that govern every process in the machine. That level of complexity needs to be emphasized, Southerland adds.
It's also important to not get hung up on "kids today" and how lazy or difficult you may think the entire generation is. Lou Stumpp, national account manager for Navistar's fleet service, says – for the most part – from age 21 to 65, technicians are not all that much different.
"All technicians are wired similarly," he says. "They all like to fix stuff. They don't like to waste time waiting on parts. They don't like to waste time walking around the shop."
A sense of belonging – "feeling like part of a family," Arrants adds – will make your shop attractive in ways a fat paycheck never could.
A reinvention of the trucking industry is underway, just it was for newspapers beginning about a decade ago. You can either resist and defy it or adapt and thrive.
I know some newspapers that wish they'd taken the latter path.