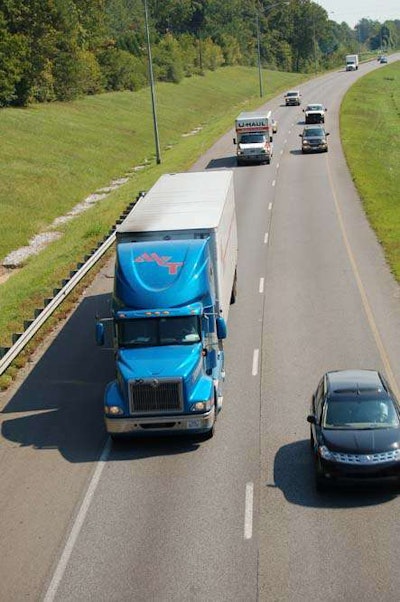 A lack of investment and infrastructure funding and poor fiscal policy continue to stymie economic growth, said Diane Swonk, founder and CEO of DS Economics, during the "Economy and its Impact on Trucking" session at the 2016 American Trucking Associations Management Conference & Exhibtion. U.S. Gross Domestic Product, which has been growing at a clip of 1.6 percent to 1.7 percent in recent quarters, means, "2016 could be the weakest year of growth since the Great Recession," she added.
Swonk said fiscal stimulus is coming regardless of who wins the U.S. Presidential election in November, but there is a "50/50 chance" that the U.S. economy enters another recession in the next three years. "I'm worried that we are the shining star compared to the rest of the world given where we are at," she said.
The anemic economic recovery also is reflected in the trucking industry, with total truckload volumes flat on a year-over-year basis, said Bob Costello, ATA chief economist and session moderator. "Freight has slowed down but we kept adding some capacity," he said.
Costello said contract freight volumes are in negative numbers two of the last three months. "Dry van truckload has 1.2 percent growth this year, but most of that was the strength earlier in the year," he said. "This sector really has been hurt by the glut of inventory in the retail market."
"It is stunning how long the draw-down in inventory levels has taken," said Swonk. "We are turning the corner a bit, but there has been hesitation to commit."
Costello also said less-than-truckload volumes have been hurt by the slowdown in U.S. manufacturing and the fact that last year spillage from the truckload sector to LTL as a result of tight capacity magnified this year's small dip, but added he forecasts some decent growth in the longer term.
One bright spot for the U.S. economy is the American consumer, which Swonk said has good financial health overall, having debt levels below pre-2004 numbers and credit card debt as a percentage of GDP running at 1994 levels. "That combined with moderate wage gains and lower energy prices, there is a sweet spot for consumers," she said. "Low-wage workers are also now able to accept jobs further from home because of lower fuel costs."
The auto industry had been another positive for the U.S. economy, but Swonk said car makers are peaking in sales and there is saturation in the market.