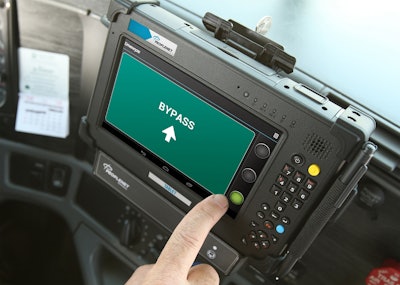 Time savings is one of the most valuable paybacks fleets can get from technology, especially when the extra time can be applied directly to activities that generate revenue.
Such has been the experience for Cumberland Farms and its private fleets that supply more than 550 convenience stores in the Northeast with groceries and petroleum products.
For the petroleum fleet, time is money as its drivers — both union and non-union — are paid by the hour, says Wayne Thornhill, director of petroleum transportation for the Framingham, Mass.-based company.
Time is also money for the grocery division with 65 drivers, most of whom are paid by the load.
Both fleets run more than 10 million miles combined annually with a heavy concentration on I-95 and I-84 in the Northeast corridor between Connecticut and Massachusetts.
Last year the fleets began using an application on PeopleNet's mobility platform called Drivewyze. The app connects each truck to a cloud-based inspection bypass program called PreClear.
PreClear is used by dozens of states to set up their own inspection criteria using public safety credentials of motor carriers. The system automatically identifies carriers for inspection as trucks pass through mobile and fixed sites.
When trucks approach upcoming inspection sites the Drivewyze app on the PeopleNet display unit gives bypass notifications to the drivers of qualified carriers such as Cumberland Farms, in exchange for paying a monthly fee, per truck, for unlimited bypass events.
As part of implementing Drivewyze, Thornhill and his management team decided to share information with drivers during the company's monthly safety meetings.
"We share the good, bad and the ugly," he says.
The good news is found in a summary report from Drivewyze that shows the amount of time and money the fleet saved from bypassing weigh stations during the previous month.
Another benefit of bypassing weigh stations is fewer inspections. For every inspection that doesn't happen, Thornhill estimates the fleet saves between 45 minutes and two hours.
A driver that has a roadside inspection during the workday is not able to make it back to the terminal on schedule. As such, the driver would not be available to make an extra pickup or delivery and earn overtime pay, he says.
"Drivers see the benefit of getting PreClear and getting their work done, and in some instances grabbing another load," he says.
The bad news shared at meetings is the number of missed opportunities for bypass.
"We also look at the number of loads that did stop and the time and costs associated with that," he continues. "We recognize the value of having drivers participating and being engaged with management."
Like other fleets that participate in the PreClear program, Cumberland Farms can improve its bypass rate by improving its Compliance, Safety, Accountability (CSA) scores.
Management discusses scores with drivers at the monthly safety meetings using CSA scorecard reports from Vigillo that provide a detailed breakdown of inspection data by state.
During the safety meetings, drivers receive extra training on how to identify and prevent violations that occurred, he says, such as how to more carefully inspect brakes, tires, and other vehicle components.
The reports from Drivewyze and Vigillo show if the fleet is making progress from month to month in the areas of compliance and efficiency.
While the primary focus of Drivewyze is mobile bypass, the cloud-based platform has expanded capabilities for fleet efficiency and safety, says Wayne Malkin, chief technology officer of Drivewyze.
Drivewyze can warn drivers of areas with high rollover risk due to a sharp curve or wind. It does this by comparing real-time location to its database of high-risk locations that were identified by the American Transportation Research Institute.
This new system is currently being piloted and will soon be able give fleet management reports on driver behaviors at high-risk locations by tracking their speed, acceleration and more for training opportunities, he says.