Navistar CEO Troy Clarke often says his company builds the most driver friendly truck on the highway, so it only makes sense that he doubled-down when it came time to overhaul the company's flagship on-highway truck.
Many of the refinements that went into International's LT Series, which the company unveiled earlier this month in Las Vegas, were gleaned from feedback provided by more than 400 drivers.
Adding a crowd-sourced element to the design process of a truck that will eventually replace the company's ProStar is in step with Clarke's pro-driver charge. Denny Mooney, Navistar senior vice president of global product development, adds it also hones the company's focus on building a truck that can become a tool for driver recruitment and retention, since driver feedback has begun predicating purchasing decisions.
"We've had fleets tell us that 'if the drivers don't want to drive your truck, we're not going to buy your trucks,'" Mooney says.
"Driver retention equals cost of ownership," adds Jeff Sass, senior vice president of sales and marketing for Navistar. Sass says keeping drivers in the seat has begun to trump fuel economy and efficiency benefits due to the investment in the driver's equipment and training. "Everything we're doing today is for the driver."
This week, I was able to take the LT for a quick spin around Navistar's New Carlisle, Ind., proving grounds to get a feel for just how driver-friendly the final product is.
The company borrowed many of the LT Series' exterior elements from its SuperTruck project, a multi-million dollar joint endeavor with the U.S. Department of Energy.
Upgraded aerodynamic features on the new International LT Series include an aero-contoured hood (with 4 inches added to the slope), fender, wheel opening and chassis skirts and an aero-enhanced three-piece front bumper. Longer side extenders also shorten the trailer gap. Standard LED headlamps offer a bump in durability and efficiency over halogen predecessors.
The exterior may have been inspired by efficiency, but the inside is all about comfort. Based on a review of more than 500 points where the driver and truck interact, the LT features an all-new interior that offers better elbow room, hip room and leg room. In a shout-out to all the shotgun riders, the LT Series passenger side gets two extra inches of room over the ProStar.
The air brake release has been relocated from the left side of the B-panel, giving the driver easier access to switches more applicable for driving and improving egress into the sleeper.
"There's no reason to have the primary real estate on the B-panel because you don't touch [the air brakes] unless the truck is stopped," Sass says, "[and] you don't bump it with your right knee if you happen to be swinging into the sleeper."
The redesigned interior also features a premium dash cluster with a digital driver display that features up to 15 customizable digital gauges. It can be manipulated with a steering-wheel mounted toggle and offers real-time fuel economy monitoring.
A column-mounted gear-shifter also helps un-clutter the dash and shares the right side of the steering column with a three-stage engine brake switch.
The air horn was relocated back to its traditional position over the driver door in another nod to driver feedback.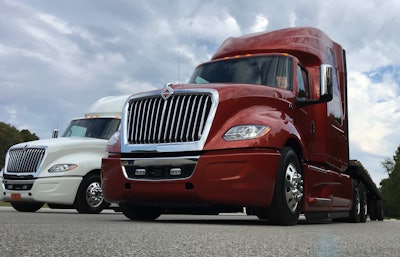 The truck features a redesigned one-piece side window for a clearer line of sight and the mirrors have been engineered so the driver will have to turn their head 15 percent less on the driver's side and 5 percent less on the passenger side – a change Sass expects to improve driver fatigue. It's also a design element that contributes to LT's "wrap around" feel from the driver's seat.
A better HVAC system – more tightly sealed vents and improved reliability and performance – is sure to be popular with International loyalists. Bendix Wingman Advanced Collision Mitigation system also comes standard in the LT Series.
The LT Series will initially be available with the 2017 Cummins X15 engine, offering a horsepower rating of up to 500 hp in the efficiency series and up to 565 hp in the performance series.
My white 73-inch SkyRise sleeper LT test unit featured a horsepower rating of 450 and was matched to an Eaton Fuller Advantage 10 speed automated manual transmission.
My brief test only flirted with 60 mph a couple of times, but the truck is a comfortable driver. Sass says aero enhancements also provide a four-sone decrease in wind noise inside the cab. I didn't spend a lot of time at highway speeds so I'll defer to their experts on that, but the cab is noticeably quieter than a ProStar similarly equipped.
International's predictive cruise control uses preinstalled GPS maps and the latest commercial route data to make adjustments to cruising speed without the need to pre-drive the route. It looks ahead of the vehicle and recognizes the terrain and continuously calculates the most efficient speed and gear for optimal fuel economy in real time. My test was on a closed track so I didn't get to fully deploy this feature.
A 2017 Navistar N13 engine will be available early next year and rated up to 475 hp with up to 1,750 lb.-ft. of torque on LT models. Its design is expected to be 500 to 600 pounds lighter than traditional big bore engines.
Reception to the LT since its debut barely two weeks ago has been strong, and Sass says more than 3,000 have been ordered to-date with 1,150 slated to be built by year's end.
All in all, if International was looking for a truck that carries the mantle of the company's driver-centric mission a little further, the LT Series seemingly fits the bill with its mixture of traditional elements to keep drivers happy and technological innovations that help boost efficiency and the bottom line.