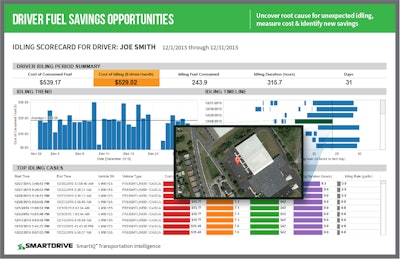 SmartDrive Systems announced that its SmartIQ Transportation Intelligence Suite received the Business Intelligence Group's BIG Award for Business in the transportation technology sector, and was named 2016 New Product of the Year.
The award recognizes the modern data architecture, real-time video integration and advance visualization capabilities of SmartIQ.
SmartDrive is a provider of driving performance systems that reduce collisions and improve fuel efficiency.
"We're proud to be recognized for SmartIQ and for our continued innovation in video safety and analytics," noted Steve Mitgang, CEO of SmartDrive.
Launched in early 2016, and previewed by CCJ here, SmartIQ links driver behavioral data to a multitude of separate vehicle systems, manages that data, and analyzes it at scale and in real-time.
The SmartIQ Suite has operational metrics, management KPIs, reports and dashboards for managers and interactive visualizations for advanced analysis.
"Differentiation is a common theme among many of our winners, and we hope that trend continues," said Russ Fordyce, managing director of the Business Intelligence Group. "Modern companies are now relying on their customers for inspiration and direction to improve and launch new products. We are so proud of all of the winners this year. It is truly a select group."
Organizations from across the globe submitted their companies, products, and executives for consideration in the 2016 BIG Award for Business. Nominations were then judged by a select group of business leaders who volunteer their time and expertise to score submissions and provide feedback.