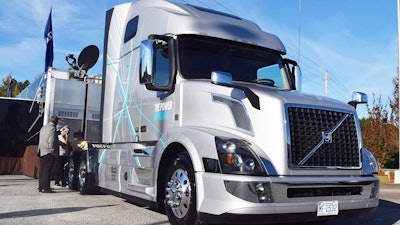 Volvo Trucks North America gave industry press and fleet customers an up close look this week at the company's new Volvo Active Driver Assist system in a track demonstration in Laurens, S.C., showing off the crash avoidance tech meant to prevent severe rear-end collisions and rollovers.
The VADA system is built upon Bendix Wingman Fusion active safety system, fully integrating it from the factory with no external monitors or displays. That level of integration means all of the system's alerts appear in the main Driver Information Display within the instrument cluster.
VADA takes the Fusion system a step beyond current capabilities by incorporating a 42-degree angle camera with the 22-degree radar sensor. Current models rely solely on radar. The addition of the camera allows the system to better detect other vehicles and react accordingly, says Ash Makki, Volvo's technology marketing manager.
"This is the foundation for the future," Makki said. "This is how accident mitigation is going to be dealt with — two brains thinking together to make sound decisions. Collecting data from radar and camera improves the accuracy of the system and makes it more effective."
The system constantly reads the road ahead, using the camera system to identify other vehicles and the radar system to track their movement. Should the system detect an impending rear-end crash, such as when stopping distances begin to narrow quickly, it will alert the driver with visual and audio warnings.
If the driver does not take braking or steering action to avoid the crash, the truck will autonomously engage the brakes in an attempt to prevent the crash or reduce the severity.
VADA's new camera and radar also allow for more accurate lane departure warnings and a bolstered active cruise control system that maintains proper following distances at highway speeds.
The system also includes the full electronic stability control system, designed to prevent rollover crashes and loss of control by disengaging the throttle and braking to avoid such crashes.
Trigger events, such as hard braking, excessive speed, swerving and lane changes without a signal, record 20-second video clips before and after the event by VADA's new camera. Those events are then uploaded to a dashboard where fleet managers can download them. Fleets can also use the Bendix SafetyDirect portal to score drivers and target them for intervention based on a long list of events.
The system is available on both VNL and VNM models.
Business update
Volvo Trucks NA's VP of Marketing, Magnus Koeck, said Volvo predicts 2016 truck orders to drop to 240,000, a big cut from last year's 300,000. Sluggish manufacturing and freight movement depressed orders this year, he says, and could further suppress order activity next year. Volvo forecasts net orders to dip again in 2017 to 215,000 orders, Koeck says.
Volvo also expects the long haul share of orders to decline to about 43 percent next year, down from this year's expected 48 percent and last year's 50 percent. Regional haul orders are eating into the long haul market and should grow to about 35 percent next year, up from this year's roughly 28 percent, Koeck says.