CCJ's Indicators rounds up the latest reports on trucking business indicators on rates, freight, equipment, the economy and more.
---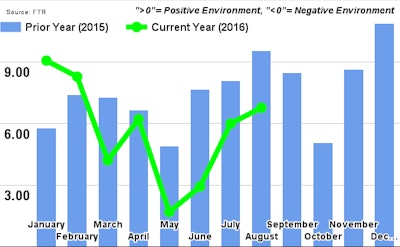 Market conditions for trucking companies gained steam in August, according to the monthly Trucking Conditions Index produced by FTR.
August was the second straight month the index climbed, and FTR projects the trend to continue through 2017 as new trucking regulations restrict capacity and drive up rates and margins for trucking companies.
The economy and freight are slowly growing, FTR says, but the long term trend of economic growth and freight demand are unclear.
"The July and August increases in the Trucking Conditions Index were led by positive changes in capacity utilization and fuel prices," says FTR's COO Jonathan Starks. " Also, despite the weak reports from the public TL carriers, utilization of the overall fleet is showing some moderate improvement. This trend is likely to be subdued until mid-2017 when we get close to the implementation data for electronic logging devices. The third quarter is likely to be the nadir for weak reports, and we should begin to see economic improvement, easier year-over-year comparisons, and better overall market conditions as capacity tightens up due to regulations."