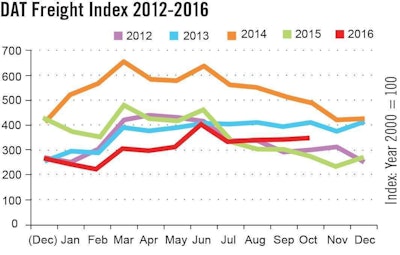 October was the strongest month for freight availability in 2016 except the June seasonal peak, according to the DAT North American Freight Index, compiled by DAT Solutions.
Month to month, freight volume rose 1.8 percent, but compared to last October, availability of truckload freight was up 27 percent.
Flatbed led the month-to-month gains, with freight volume in the segment growing 11 percent in the month from September. Van and reefer volumes fell from September, with van load availability dipping 0.6 percent and reefer volume losing 4 percent. DAT cites post-Hurricane Matthew relief and rebuilding efforts in the Southeast as the potential driver for flatbed's growth.
The year-over-year trend was reversed, with van freight jumping 51 percent and reefer volume climbing 44 percent. Flatbed volume compared to last October was up just half a percent.
Van and flatbed rates saw small gains in October from September, while reefer rates dipped slightly.
Rates in all three segments were down compared to last October, however.