Editor's note: this is the first of a four-part series on advanced technology for managing speed
With the authority to create and enforce laws, the Federal Motor Carrier Safety Administration can do more than promote a safety campaign to "slow down to save lives."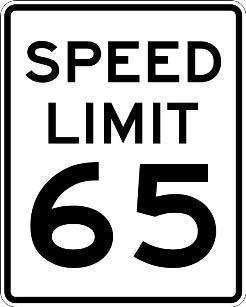 It could mandate a speed limit for heavy duty vehicles. And its proposed rule for speed limiters does just that. Now in the comment period, the rule may ultimately require all trucks to be governed at either 60, 65 or 68 mph.
FMCSA has data to support mandatory use of speed limiters to save lives and reduce emissions. A U.S. DOT study in 2012 examined speed-relevant truck crashes and found the crash rate for motor carriers that use speed limiters is 1.4 crashes per 100 trucks per year. By contrast, the crash rate for carriers that do not use the devices is more than three times higher: 5 crashes per 100 trucks per year.
This study involved more than 150,000 trucks and 28,000 crashes during the 2007-2009 data collection period.
Today, more than 85 percent of fleets govern the top speed of their trucks, according to a 2016 survey from the American Transportation Research Institute. The most common top speed setting is 65 mph, the survey found, with fuel economy, maintenance and safety cited by fleets as their top reasons.
Perhaps the aforementioned study did not account for other technologies that motor carriers with speed limiters use to reduce accidents. By today's standards, speed limiters are entry-level technology for safety.
The FMCSA's speed limiter rule proposal has drawn criticism from all quarters in the trucking industry. Generally, opponents dislike the idea of a one-size-fits-all limit and are concerned about traffic speed differentials between trucks and passenger vehicles.
Fleet telematics systems are widely used to manage risky speed behaviors. Some can give drivers real-time alerts and feedback for speed and other risky behaviors, and report the exceptions to fleet management.
Healthy speeds
Apria Healthcare, one of the two largest providers of home health services and equipment, is built on speed. It delivers oxygen tanks and other medical devices to homes, and its fast deliveries enable patients to be discharged more quickly from hospitals.
Apria serves about 1.8 million patients nationwide with a fleet of 6,800 trucks that it dispatches from 400 locations.
The company is implementing a suite of cloud-based routing, dispatch and fleet telematics applications from Telogis.
"We are putting tools in our vehicles to be able to deliver faster, and give our drivers visibility into orders and to get equipment into homes," says Debra Morris, executive vice president and chief financial officer.
As part of the project, Apria configured its Telogis system to alert fleet managers if drivers exceed 75 mph.
"We felt that we did not want to go too low because of the volume of alerts," says Giancarlo Gavino, national fleet and transportation safety manager. Even with a high speed threshold, the number of excessive speeding alerts was "quite a bit" at first, he recalls.
Since installing the system, Apria has seen a 90 percent reduction in excessive speeds. "We are killing a revenue stream," Morris jokes.
In addition to speed alerts, Apria uses a self-policing system called Telogis Coach. The app gives drivers real-time notifications and a daily performance score that consists of four categories: not exceeding posted speed limits, and staying under its thresholds for harsh deceleration, acceleration and idle time.
The app gives drivers a distinct audible alert if they exceed any threshold. This gives drivers a chance to modify their behaviors before an excessive alert is reported to fleet management. For example, drivers are alerted if they exceed 70 mph, he says.
"We are letting (drivers) self-police themselves by looking at the scores," Gavino says. "We want the tool to pay dividends on its own without us putting more effort into it. For the most part it has been working well without too much involvement."
Subsequent articles in this series will focus on other uses of technology to achieve results in safety and fuel economy that exceed the value of speed limiters.