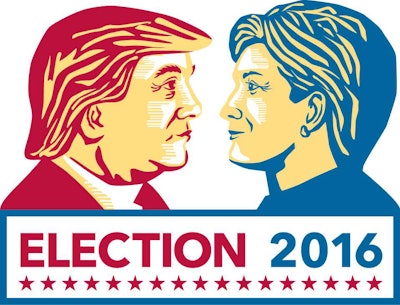 Businessman and Republican nominee Donald Trump has been elected the 45th president of the United States, defying polling numbers and securing the White House in part due to support from the trucking industry.
Not only did Trump garner broad support from truck drivers, he also secured more in financial campaign contributions from the trucking industry, whose political spending is largely made up of bigger carriers and fleet-backed lobbyists.
According to surveys by CCJ sister site Overdrive, support of Trump by owner-operators — and company drivers, to an extent — was overwhelming, with 75 percent saying they intended to vote for Trump over Clinton.
Trump drew more than $160,000 in financial contributions from the trucking industry, according to the Center for Responsive Politics. Clinton received $114,000 from trucking contributors. Both of those figures, which still aren't final totals, trend well below contributions made to top candidates in recent presidential elections.
Trucking campaign contributions also helped Republicans maintain control of Congress. Trucking-based contributions to Senate and House races favored Republican candidates by nearly five to one, with Republicans receiving just over $2 million from trucking contributors and Democrats receiving more than $430,000.
Trump did receive a late bump from trucking contributors, as did Clinton. However, despite being at the top of the ticket, Trump ranked second among top recipients of trucking contributions. Sen. Ted Cruz (R-Texas) received the most with $169,674. Mitt Romney, Republican nominee for president in 2012, topped $1 million in contributions from trucking in that election cycle.
Though Trump was mum on trucking in his campaign, he did make big promises on infrastructure funding, saying he'd like to spend half a trillion dollars on infrastructure funding in his first term.
CCJ will post more on the election results throughout the week, including what a Trump presidency and Republican-controlled Congress may mean for the trucking industry in the coming years.