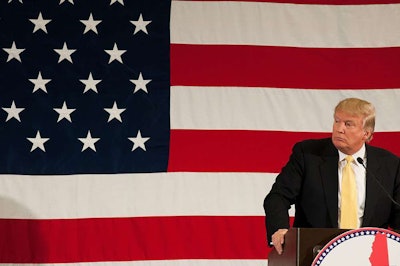 President-elect Donald Trump flipped the script Tuesday with a surprising victory in his bid for the White House. In his 18-month campaign for the nation's top office, Trump promised to be tough on immigration — and undocumented immigrants already residing in the U.S. — and to rework longstanding international trade agreements that he says left large swatches of Americans without good work in recent decades.
Trump has also promised major investments in U.S. infrastructure.
Should they be enacted, what do these policy proposals mean for the trucking industry? And is there hope for regulatory relief under an all-Republican regime in Washington?
Despite Republicans' more hard-line stance against federal regulations on private industry, key trucking industry regulations enacted in recent years — such as the coming electronic logging device mandate — are likely here to stay, say analysts and trucking industry advocates.
The ELD mandate in particular, which took effect last December and gave carriers two years to comply, was mandated by Congress in 2012 with a strong Republican majority in the House.
Lane Kidd, head of the carrier coalition the Trucking Alliance, says he doubts Congress will walk back regulations it initiated. "To roll back Congressional actions — that would be far fetched," he says.
Tractor-trailer emissions regulations, however, may be a target for the new leadership in Washington. Phase 2 emissions regulations, finalized this year by the Environmental Protection Agency, were not mandated by Congress. The new standards take hold next year and will be phased in through 2027. "I can see where Congress could roll back or stall regulations initiated at the agency level," Kidd says. "There's a chance, but whether there's probability — that's the big question."
Todd Spencer, executive vice president of the Owner-Operator Independent Drivers Association, agrees. "We've had Republican control of both the Senate and the House for quite a while. Unfortunately, the ELD rule was pushed through by Republicans in Congress, even some Tea Party Republicans," he said.
Spencer said OOIDA plans to engage the Trump administration on Phase 2 tractor-trailer emissions regulations in hopes of having the regulations reevaluated and expanding the 10-year implementation period.
Lawmakers will initially be focused on major items like tax reform, filling an empty Supreme Court seat and repealing the Affordable Care Act (Obamacare), says Jonathan Starks, COO for transportation research firm FTR. Such reforms may leave little time for trucking regulatory reform, says Starks. "Those items will suck up so much time and energy and oxygen in Washington, there won't be a whole lot of oxygen left for dealing with trucking regulations," he says, unless regulation-wary Republicans opt for "a huge sweep" of regulations across all U.S. industries, he says.
On infrastructure funding, Trump has more than once said he wants major investments in U.S. infrastructure, including surface transportation infrastructure like highways and bridges. "We're going to fix our inner cities and rebuild our highways, bridges, tunnels, airports, schools, hospitals. We're going to rebuild our infrastructure, which will become, by the way, second to none," he said in his victory speech early Wednesday morning.
Major infrastructure bills are challenging pieces of legislation to pass, especially since Congress changed little in the election, says Spencer. "Pretty much all the same players are still there," he says.
Like all spending bills, the challenge is finding funding, Starks says. "Lots of candidates have called for good investment in infrastructure, but the trouble is coming up with mechanisms to pay for it," he said. "So far we haven't come up with that plan."
Starks says a major infrastructure bill will likely pass in the next two to four years, but its funding levels remain uncertain. Likewise, Kidd foresees an infrastructure bill likely under a Trump presidency, potentially even next year.
The American Trucking Associations signaled Tuesday it intends to work with Trump to help make an infrastructure bill a reality. "During the campaign, he highlighted the need to create jobs, and recognized that improving our nation's infrastructure is critical to strengthening the economy," ATA President Chris Spear said in a statement. "As the industry that moves nearly 70 percent of our nation's freight and is a key economic driver, we look forward to working with President-elect Trump on a host of issues, including long-term, sustainable infrastructure funding."
A boost in U.S. manufacturing — a tenet Trump put front and center in his bid for the White House — could be a boon for trucking, unless increases in domestically built goods are offset by decreases in imported goods, due to higher import and export tariffs, says the Trucking Alliance's Kidd.
"Most people like the idea of free trade, and historically when you start putting tariffs on products coming in and out of the country, prices of goods rise," he said. "So ultimately it comes down to whether people want products built in the U.S. or whether they want to pay less for products built elsewhere. Historically it's the latter."
Also, manufacturing has already seen steady growth in the last 5 years, says Starks. Trump's message was more about growing manufacturing jobs, says Starks, rather than growing manufacturing output, though the two are correlated. "Manufacturing has been growing, not as strong as many would like but overall we are seeing pretty strong growth," he says. "It's not going to be an easy fix or a quick fix, and there's really only some limited items that he can do to make a significant dent to that."