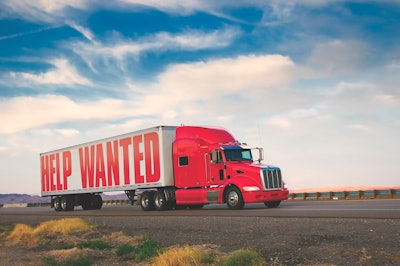 The old saying goes, "you never get a second chance to make a first impression," and Steve Brantley, director of driver recruiting for USA Truck, says a mission of making great first impressions can be a key in reducing the number of drivers who quit in the first 90 days on the job.
"First impressions [are] all the driver has," says Brantley, who spoke at the CCJ Fall Symposium in Scottsdale, Ariz., Tuesday. "Be respectful of their impression of [your] company."
Brantley says a well planned and thoughtful onboarding process can help get drivers to stay, but he notes there are challenges in reducing friction points between the company and newly-hired recruits.
"Every driver wants to succeed with your company," he says. "Nobody gets up in the morning wanting to fail."
It's key to manage the expectations of both the driver and management through the orientation process, and Brantley emphasizes the expectations the drivers have of the fleet are just as important as the expectations the company has of the driver.
Another point of friction can be the avalanche of paperwork new drivers have to fill out. Brantley says drivers often have to give the same information multiple times, which can be frustrating.
He advocates automating the process and collecting all the data you need only one time.
"Once you have that information, use it for all your forms," he says. "Don't make them fill it out three or four times."
It's also important, Brantley says, to recognize and plan for differences in learning styles and to keep the connection circle – the number of people the driver has to rely on early in the learning process – small.
"There's no way a driver can remember everything and everybody just from orientation," he says. "Focus on the really important connections. Make sure they remember the important things."
The responsibility of remembering the the connections is on the driver but making sure those connections are to the right people is on the fleet, Bentley adds.
"Make sure you have good teachers and mentors in place," he says. "Not everyone can be an orientation instructor or facilitator. If you don't have the right people there, that casts doubt in [the driver's] eyes that you don't have the right people in other parts of the organization."