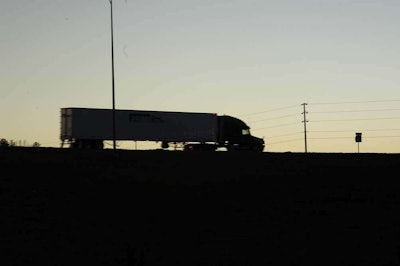 Congress will likely act to clear up the hours-of-service confusion lawmakers created last December, said a spokesperson for the American Trucking Associations during the CCJ Fall Symposium, Nov. 16, in Scottsdale, Ariz.
Sean Garney, director of safety policy for the ATA, said that language is in the DOT appropriations bill moving through Congress that will continue the suspension of certain hours of service rules pertaining to the 34-hour restart — chiefly, the requirement that the 34-hour reset period include two consecutive off-duty periods from 1 to 5 a.m.
The 34-hour reset changed as part of the hours-of-service rule published in July 2013. The two consecutive off-duty periods of 1 to 5 a.m. were initially suspended in a 2015 appropriations bill (passed in December 2014), which required the Federal Motor Carrier Safety Administration to conduct a study on the rules.
ATA members were concerned the 1 a.m to 5 a.m. requirements surrounding the 34-hour restart were forcing drivers to come off their breaks during peak, daytime traffic congestion.
Garney said ATA worked with Congress to include the language in the 2017 THUD appropriations bill. Both chambers of Congress included hours of service fixes in their respective THUD bills. Work on the legislation stalled during the election season, but is set to resume in the coming weeks. Read more on those bills at this link.
Another possible change to the hours-of-service rules would give drivers more flexibility in using the sleeper berth provision. FMCSA will consider a change following a sleeper berth pilot project with Washington State University and Virginia Tech Transportation Institute, he said.
"It is most appropriate for drivers to sleep when they are tired," Garney said. FMCSA's pilot study will involve between 200 and 240 drivers, both company and owner-operators, who will experiment with different split sleeper berth models: the traditional 8 and 2-hour split and a split that breaks the 10-hour off-duty period into two periods, one of which must be at least three hours in duration.
Garney expects the study to be announced in the Federal Register by the end of year. He said it will take up to a year and a half to collect the data before changes are announced.
Turning to the long-awaited Safety Fitness Determination rule, he said FMCSA is currently working to complete a required study from Congress to better align its CSA BASICs with crash risk, he said.
The SFD rule will use CSA data to classify the most at-risk carriers as "unfit" rather than continue to rate carriers as "satisfactory, conditional or unsatisfactory."
FMCSA plans to keep the failure threshold the same for three BASICs that have the strongest correlation with crash risk: Unsafe Driving, Crash Indicator and HOS compliance. It plans to adjust thresholds for the other BASICs, he said.
Carriers would be classified as "unfit" if they exceed a failure threshold in two or more of the BASICs or fail a compliance review. Carriers with an unfit rating would have 15 days to contest the status before it becomes final.
ATA submitted comments in opposition to the SFD rule, he said, since FMCSA will only have enough data to score 40 percent of carriers.
The agency is also trying to address industry concerns about including non-preventable crashes in motor carriers' CSA scores. FMCSA started a 24-month demonstration program that would remove accidents from a carrier's record where the other driver was cited for drunk driving, driving in the wrong direction, improperly parked, or a rear-end collision.
Garney also updated CCJ Fall Symposium attendees on the drug and alcohol clearinghouse rule that recently cleared the Office of Management and Budget and is awaiting final publication. He said a final entry level driver training rule is set to be published by the end of the year.