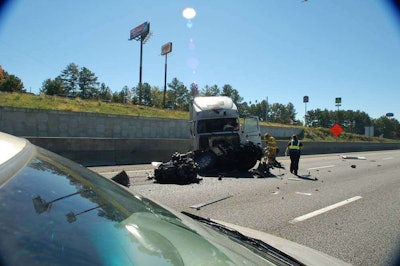 "Autonomous driving" may be the loudest buzzword in trucking right now, but the road to robot transportation is paved in layers of sophisticated technologies that all have to work together in order to keep a driver safe.
The first layer would be adaptive cruise, a technology that allows the driver to maintain safe following distances without having to actively manipulate the accelerator or brake pedal.
The next several layers include the components that make up what is largely considered the collision avoidance system, a package Jon Morrison, president of WABCO Americas, calls another step on the way to autonomous driving.
"WABCO uses the terminology collision mitigation system," Morrison says, "which means a system that provides active braking on moving, stopping and stationary vehicles to help mitigate or prevent impending rear-end collisions."
Fred Andersky, director of government and industry affairs for Bendix Commercial Vehicle Systems, says the terms collision avoidance, collision mitigation, and crash avoidance are often used interchangeably.
"The Bendix Wingman Advanced and Bendix Wingman Fusion systems are collision mitigation technologies," he says. "They are designed to help drivers potentially avoid rear-end collisions or, at least, help reduce their severity."
In October, National Highway Traffic Safety Administration (NHTSA) estimated that 17,775 people died in highway crashes in the first six months of this year, a 10 percent increase from the first half of 2015.
In order to combat on-highway injuries and fatalities, the government has implemented measures requiring trucks be outfitted with an increasing amount of safety equipment designed to protect not only the driver, but also those motoring around them.
Effective next year, all new trucks will be required to have an electronic stability control (ESC) system that can help prevent a roll over accident, a roughly $600 add-on that NHTSA expects to prevent an estimated 49 deaths and 1,758 crashes annually.
FMCSA said 3,744 large trucks were involved in fatal crashes in 2014, a 5 percent drop from 2013. The fatality rate in truck-related crashes per 100 million vehicle miles traveled (VMT) by large trucks declined by 6 percent, from 0.143 to 0.134.
Combination trucks involved in fatal crashes dropped from 2,813 in 2013 to 2,717 in 2014. The rate fell from 1.67 to 1.60 on a 100 million VMT basis and there also was a slight decline in the overall fatality numbers, from 2,896 to 2,839.
A collision mitigation system takes vehicle stability control multiple steps further, but Morrison notes the two systems communicate and work together.
"What this really does is to give the driver options in a collision situation," Andersky adds. "If the driver feels they are not going to be able to stop in time to avoid a collision, they can have the option to swerve and avoid the crash if the lane next to them is clear. The [electronic stability] system will then, if needed, automatically intervene to help mitigate the potential rollover or loss of control."
While collision avoidance systems mitigate or prevent impending rear-end accidents, Morrison adds electronic stability control systems improve directional stability and help protect against roll-over, skidding, spinning and jack-knifing.
"In some instances, the systems work hand-in-hand, such as WABCO's joint development program with ZF on Evasive Maneuver Assist (EMA)," he adds, "where the system helps evade the stationary vehicle ahead, while ESC helps prevent a roll-over during the evasive maneuver."
Bendix collision mitigation systems are integrated with its Electronic Stability Program full-stability system, but both perform separate functions.
"The collision mitigation technology combines adaptive cruise control – to help the driver maintain a set following distance behind a forward vehicle – and autonomous emergency braking, to help the driver avoid collisions by automatically cutting throttle and applying the brakes when the system determines a collision is imminent," Andersky says. "The system also provides the drivers various alerts to let him or her know when following distance is closing, a collision is imminent with a moving vehicle or (with Wingman Fusion) a stationary one before applying brakes, and if a metallic stationary object is in their lane of travel."
WABCO's OnGuardACTIVE collision mitigation system uses a 77GHz "radar-only" solution with up to a 650 feet reach. Morrison says it performs active braking on moving, stopping and stationary vehicles; supports the driver with forward collision warning; offers Adaptive Cruise Control (ACC) as an optional feature; uses a dual mode radar that addresses both long range and adjacent lane views; is modular and scalable; and, comes with continuous automatic radar alignment.
Collision mitigation could also follow in the footsteps of ESC, as a government mandate seems likely in the years ahead. Last year, the National Transportation Safety Board (NTSB) released a report recommending collision avoidance systems become standard on all new commercial and passenger vehicles.
NTSB says it found during an investigation that collision avoidance systems could have prevented or lessened the severity of injuries in two-car accidents involving tractor-trailers by nearly 80 percent in 2011-2012.
According to FMCSA's report, heavy trucks involved in injury crashes rose sharply in 2014 – from 73,000 to 88,000. Injuries as a result of large truck crashes per 100 million VMT also rose from 34.6 to 39.8, their highest point since 2006. The report says 45,000 combination trucks were involved in injury crashes in 2014, compared to 38,000 the year before. On a 100 million VMT basis, the rate rose from 22.6 to 26.4.
"On June 8, 2015, the National Transportation Safety Board called on the federal government to mandate collision mitigation systems on all new vehicles, including heavy-duty trucks," Morrison says. "Regulators are still working on deciding a date."
"A Notice of Proposed Rulemaking is possible in 2017, but more likely in a 2018 timeframe," Andersky says. "This could, of course, change with a change in the administration."
Morrison says WABCO has sold more than 100,000 of its OnGuard collision mitigation systems, and more than 200 fleet customers have logged more than 45 billion miles. Heavy-duty truck fleets using WABCO's OnGuard have reported an up to 87 percent reduction in accidents, resulting in an up to 89 percent savings in accident costs compared to vehicles lacking the system.
In its 2015 report, the NTSB concluded that collision warning systems, particularly when paired with active braking, could significantly reduce the frequency and severity of rear-end crashes, but Morrison adds it's important for drivers to understand the systems can only complement safe driving habits.
"The industry has a long history of providing driver assist systems that improve driver, vehicle and road safety," he says. "It's important to note, too, that computers never have a bad day, are tired or distracted, and that the driver remains in ultimate control of the vehicle."
That kind of technology helps support, not replace, the talents of the driver, according to Del Lisk, Lytx vice president of safety services.
"We've seen the unintended hazards of automated technology, when drivers begin to rely on the technology to do the job of driving and they mentally check out," he says. "While collision mitigation systems can augment a driver's skills, they're not a replacement for attentiveness. Technology has limits and keeping the driver engaged to compensate for those limits is going to be critical for the success of collision mitigation systems and other forms of automated technology in the cab."
"It's always been our contention that the human behind the wheel is the most sophisticated technology in the cab," Lisk adds. "Humans make decisions weighing myriad variables — wet load, dry load, full load, partial load, weather conditions, surrounding traffic, and so on — in a split second."
"The algorithms in a computer, while sophisticated, may have difficulty making judgment calls in certain types of crashes," says Pete Allen, executive vice president of sales, MiX Telematics North America. "For example, what if there is going to be a crash and there is a choice to hit a wall on the right or a pedestrian in the street. I believe there are probably edge cases where the driver's judgment will still play a role."
Andersky agrees, noting the systems are designed to assist drivers, not replace them.
"Responsibility for the safe operation of the vehicle remains with the driver at all times," he says.
Through its DriveCam platform, Lytx focuses collision mitigation squarely in the driver's seat. The platform's event recorder is mounted in the cab or on the windshield and captures incident-specific video of the driver and their surroundings for 12-second increments – 8 seconds before and four seconds after an incident.
This video, when combined with telematics – including location, speed and direction – mapping and analytics can predict and prevent high-risk behavior.
"We found that drivers we thought were the safest because of the absence of driving events were actually fairly complacent about their driving," says Wes Peterson, director of Risk Management for Andrus Transportation Services. "They hadn't been in a collision but it was just because the odds had not yet caught up to them. They'd been lucky drivers."
"Driver behavior solutions help coach and fine tune that judgment versus relying on a computer to do the work for the driver," adds Allen.
Peterson says the data-backed insight gave the company's driving coaches a clearer path to eliminate complacency and address unsafe driving behaviors before they turned serious.
"We also want to ensure that drivers and fleets understand that Bendix safety technologies complement safe driving practices and are not intended to enable or encourage aggressive driving," Andersky adds. "One thing is very clear: Technology today, or for the foreseeable future, will not replace the need for safe drivers, safe driving habits and comprehensive driver training. As a Class A CDL holder, I like the fact that I have something backing me up, just in case."