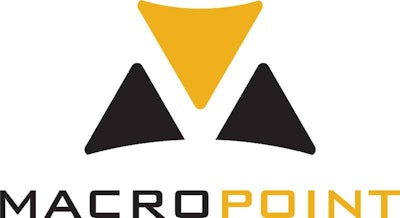 MacroPoint, creator of patented freight tracking software, announced that 10-4 Systems is licensing its technology. Boulder, Colo.-based 10-4 Systems provides shippers with supply chain visibility and shipment tracking.
"We are partnering with MacroPoint because of the vast number of freight carriers already connected to its network," said Travis Rhyan, president and CEO of 10-4. "Our shipper customers now receive instant visibility to all of their carriers and can visualize the data inside of our dashboard and analytics platform."
With the technology, 10-4 is able to provide automated alerts for shipments running early, on-time, in jeopardy or late. To ensure accurate data, this information is continuously recalculated for real-time ETAs and internal information sharing.
"We have received a lot of licensing interest since our latest patent issued," said Bennett Adelson, MacroPoint's CEO. "Most companies respect intellectual property rights, and many partners and competitors have been reaching out to us with ideas of how to work together and leverage our invention in new and interesting ways."
Bennett said the the visualization tools developed by 10-4 Systems are "state of the art and top notch," and that the deal with the company "ensures that end users are now properly licensed and able to continue incorporating our technology into their standard operating procedures for the long term."
MacroPoint has proprietary predictive analytics software that allows third parties to view all loads hauled by a variety of carriers and concentrate only on the loads at potential for missing delivery windows.