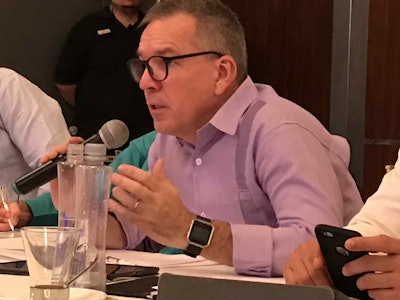 Daimler Trucks North America has steadily grown its market share in recent years to become the Class 8 market leader in Canada and the United States, and it now says it will stake its claim to the market share lead in Mexico in 2016. Stefan Kürschner, president and CEO of Daimler Commercial Vehicles Mexico, reported DTNA now has 36.2 percent of the Mexican Class 8 market year-to-date through November, a 7.8 percent increase from 2015 and 15 percent increase from 2014.
The key driver in the company's recent success has been the development of ADAVEC, a cooperative association of Daimler's 35 Freightliner dealers across the country. Kürschner said dealer competition is particularly fierce in Mexico where many dealer territories overlap, but DTNA realized the opportunities a collaborative service network could provide to strengthen the company's brands.
"Selling a truck is one thing, but maintaining a relationship with customers is another, and the dealer network is extremely important to our success going forward," said Kürschner.
All Mexican Freightliner dealers in ADAVEC operate under a "Promesa Mutua" (Mutual Promise), essentially a customer bill of rights that focuses on operations optimization, process simplification, efficient communication and a homogenous service experience across the network's 75-plus service locations.
One of ADAVEC's major focuses is on service after the sale to provide truck customers with the confidence that their original service agreement terms will be honored across the dealer network regardless of which dealership sold the equipment.
"We used to think of only delivering service by ourselves," said Fernando Zapata, genera director of Zapata Camiones, Mexico's largest Freightliner dealer with locations in six states. "Now we do that hand-in-hand with our competitors so the brand doesn't get hurt. The customer receives the same service that he negotiated with his dealer. I've been in automotive business for 23 years, and I have never heard of a true service provided by every dealer in the country with same passion as if that customer purchased vehicles with them."
"When you have frank communication among the OEM, dealers and customers, you can work together to provide a solution, and that is very different than what we've had in the past," added Fernando Jimenez, general director of Jimenez Autocamiones.
ADAVEC works closely with Daimler to develop several key initiatives to improve sales and service for all dealers. One such program is DTNA's peso pricing program enacted in 2015 that allows dealers to quote and sell trucks using the Mexican peso rather than the U.S. dollar. Kürschner said the peso has weakened considerably in large part because of weak demand for Mexican oil exports and the globally strong U.S. dollar, creating uncertainty for Freightliner customers.
"If you are quoting dollars, you still must account to the Mexican government in pesos," said Zapata. "Quotes and exchange rates varied day to day."
The peso pricing program guarantees the price list in pesos for six months before it is reviewed and changed according to currency fluctuation. "It has strengthened customer loyalty to our brand and has helped increase sales and market share," said Zapata.
Another recent effort is the 24/7 program that has increased parts deliveries to Mexican dealers from once a week in 2014 to daily deliveries this year.
"Dealers used to place parts orders weekly or every three days," said Jaime Tamez, president and general director of Difrenosa, a Freightliner dealer operating in the states of Nuevo Leon and Tamaulipas along the Texas border. "Now we can keep inventories rotating. It is a huge difference for the customers and dealers and a major accomplishment in the last few years.
In a country where the average fleet age is 17.2 years and there are more than 150,000 trucks more than 20 years old still operating, ADAVEC identified uptime as another key differentiator and developed its Truck Uptime program to develop and train more specialized technicians, modernize shop equipment, create more express service bays and invest in more on-road service capabilities. It also standardizes service levels across the dealer network.
"Truck uptime is a big challenge especially when you are growing market share," said Tamez. "In the past you would service customers in your area, just the dealer with their customer. Now with the dealer agreement we offer customers the same service as if they were in their hometown."
Tamez said the dealer network serviced 65,000 trucks in 2015 and will increase that to 110,000 in 2016. "Customers have more confidence to bring their trucks to us in the workshop areas across Mexico."