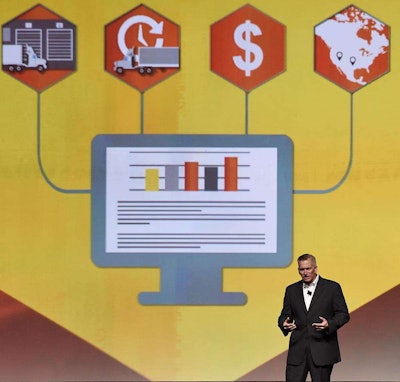 TMW Systems introduced the latest version of its Appian DirectRoute routing and scheduling system. The company says the new version (2016.3) provides end-to-end planning capabilities and integration with new mileage and mapping information.
Rather than require the user to toggle between multiple applications, DirectRoute has a workflow that enables users to optimize daily execution while offering access to real-time reporting and analytics.
The version now includes ALK PC Miler Version 30 maps and related information updated to include bridges and tunnels, border crossings, highway exits, truck stops, state weigh stations, CAT Scale weigh stations, all five-digit U.S. ZIP codes (as of 2016), U.S. Department of Defense military installations, highway junctions, commercial truck restrictions, and more.
Also now available is a new integrated traffic data mileage and travel time calculator that leverages historical commercial travel time estimates and real-time traffic data to increase route-planning accuracy.
Other key enhancements are additional route selection options within the embedded optimization tool, new map display options, support for additional file types when exporting the Distance File, and the ability to reset route start times for a range of routes.
"We continue to introduce innovative features that help streamline the planning process," said Brian Larwig, vice president and general manager, TMW Systems. "DirectRoute is helping fleets and 3PLs save time and money both in the office and on the road while dramatically improving customer service levels."