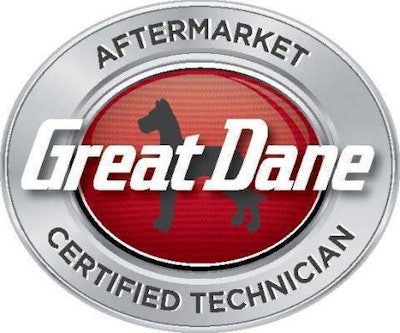 Great Dane's service technician training program has received accreditation from the National Institute for Automotive Service Excellence (ASE), the first time a semi-trailer original equipment manufacturer has received ASE accreditation for a training program.
Great Dane's training program, which includes both online and instructor-led courses, focuses on safety, trailer knowledge and skills in trailer maintenance and enables technicians to become certified in the areas that they satisfactorily complete training.
Dave Durand, Great Dane's vice president of aftermarket parts and service, says training is a key part of the company's emphasis on safety.
"ASE accreditation assures our customers that our training processes are held to a national standard," he says. "When you see the Great Dane Certified Technician insignia, you know the technicians working on your trailer have proven their skills through theoretical and practical tests in their specialties."
The ASE accreditation program is administered by the Automotive Training Managers Council (ATMC), a nonprofit organization that has been a member of ASE's Industry Education Alliance since 2009.
Earlier this year, the ATMC evaluated Great Dane's process for developing and delivering training and then recommended accreditation as an ASE Accredited Training Provider of Continuing Automotive Service Education (CASE).
Major companies in the automotive services industry that have ASE accreditation include Toyota, General Motors and Penske Truck Leasing.