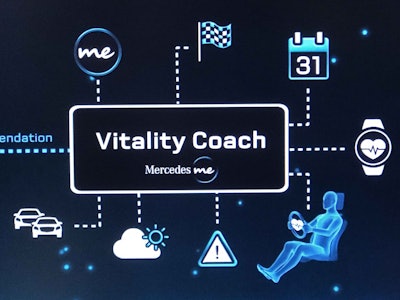 Sedentary lifestyles can cause a great number of health risks, including high blood pressure, cardiovascular disease and obesity. The career demands of driving a commercial truck puts truck drivers at particularly high risk with hours each day sitting behind the wheel. Stressful job conditions such as traffic congestion and lengthy detention times only compound the problem.
At the 2017 Consumer Electronics Show in Las Vegas, Mercedes-Benz put driver health at the center of innovation introducing several "Fit & Healthy" concepts for the company's passenger car line. Although these ideas aren't yet available in passenger cars much less commercial trucks, they could soon find their way into truck cabs after their initial product launch.
"When we introduce innovation, we move quickly to put that technology into other vehicles in our portfolio," said Ola Källenius, member of the Daimler Board of Management responsible for Group Research and Mercedes-Benz Cars Development.
From a trucking application perspective, motion seating is an intriguing Fit & Healthy concept that Källenius said soon will be in production. It uses Mercedes-Benz's Active Seat system to detect when the driver has been sitting in the same position for an extended period and automatically makes subtle adjustments to the seatback and cushion positions and engages massage functions to improve the body's circulatory system, reduce back stiffness and relieve tired muscles.
The company also introduced its Predictive Emergency Defense for commercial applications that incorporates wearables into the Fit & Healthy concept. Mercedes-Benz researchers developed a vest equipped with electrocardiography sensors to monitor a driver's health.
Källenius said the vest is designed to detect a heart attack before it happens. "If this PED system detects irregularities, the vehicle will ask if you are OK," he explained. "If you don't react, it will place an emergency call for medical assistance and stop the vehicle." The PED system also will automatically engage the vehicle's hazard warning system.
Other components of the "Fit & Healthy" concept provide physical and mental relaxation or stimulation by injecting cabin fragrances or adjusting ambient light conditions, ionisation and climate control.