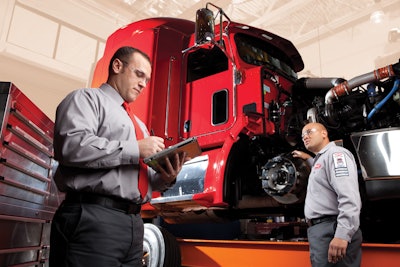 The key to uptime is parts availability. A fully staffed service bay is of no benefit if it takes days or weeks to find needed parts. A distributor's extensive inventory catalog can be comforting but if the parts you need aren't at an arm's length, you're not going to find better uptime.
"Do they have inventory on the shelf," says Jim Pennig, vice president of business development for VIPAR, who notes on-hand availability should be a key in selecting on aftermarket partners. "Do they have the fastest delivery mechanism and, just as importantly, do they have good qualified sales persons that have a good understanding of fit and function of that part?"
A parts supplier is that critical supply line that keeps parts on the shelves so techs can quickly install them on trucks, and that includes trucks that may be hundreds of miles from the fleet's main office.
"You definitely want somebody with a footprint that can cover your range," says HDA Truck Pride Director of Marketing Kristen Phipps, "and I think you want to find somebody with reputable brands."
Terry Livingston, senior director of strategic sales for Meritor aftermarket, agrees, adding that the reputation of the brands your suppliers stock will become an extension of the fleet's reputation.
"Quality stands Number One," he says. "You've got to associate yourself with suppliers who have a reputation for quality. You are going to be tied to that brand you represent. What people really want is a quality product because it's their integrity on the line."
Whether you're a small fleet in a local market, a big regional or giant national fleet, Pennig says the prevailing trend is purchasing quality products with whatever size budget you have.
"Brand equity is first and foremost," he says.
A distributor's footprint and their ability to cover a fleet's maintenance locations would be a close second, "and preferably," Pennig adds, "they would be a sizable channel with enough distribution to leverage their buying position."
Aside from getting quality replacement parts, Phipps suggests searching for a supplier that is willing to do the homework on your fleet.
"When you take on fleet business, you want to make sure you understand the composition of the [trucks] so you're stocking parts that match the fleet so [the part] is there," she says.
Pennig says knowledgeable and savvy parts sales staff should do more than just take orders. A good sales partner can diagnose your needs as good as your technicians and often make recommendations and spot inefficiencies that can save time and money.
"They may see that you're using one part, but recommend another," he says. "It may cost more upfront, but based on what they know about your business maybe it offers more uptime, which actually saves you money in the end."
If a supplier has the parts to supply a fleet's needs now, Livingston says it's just as critical they are able and willing to keep up with new technologies as they become available.
"If all you want to sell is drums and friction, you're going to miss the world when the world turns to air disc brakes," he says. "Fleets need to be with [suppliers] that are going to evolve with technologies as they are emerging."