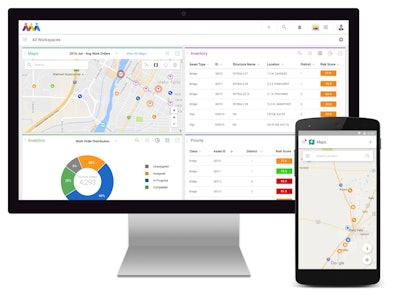 SADA Systems, a large technology consulting firm and cloud-based software developer, has launched a new transportation asset management platform: Atom.
The company says Atom leverages Google Maps and location services technology as well as the Google Cloud platform and machine learning services.
Combined, these platform technologies help fleet supervisors and dispatchers make smart, real-time decisions on things like scheduling, routing, and asset viability.
Patrick Skoglund, the Geo Lead at SADA Systems, describes Atom as a "very large, configurable application" with desktop, tablet and mobile components.
Atom is easy to implement, he said, since it is compatible with fleets' existing hardware and software. Fleets can also upload their databases into Atom, in any format, for work orders, inventory, customer locations, equipment specifications, routing restrictions and more.
The machine learning services of Google Cloud mean Atom is "constantly learning" from information it receives. The platform is able to optimally route vehicles and work orders, he said, and to aggregate data on assets and resources with analytics and reporting tools.
The platform includes a mobile app that drivers use to receive work orders with turn-by-turn navigation.
In addition to being used commercial and private fleets, Atom is configurable for city and state transportation departments that are charged with overseeing and maintaining regional assets from vehicles to bridges, signs and walkways.
Some of the primary components of the Atom application are:
Inventory – An Inventory portal allows users to view items associated with their inventories with customizable lists and filtering. Its tools also help rank critical groups of inventory against the scheduling and deployment of workers for creation, inspection or maintenance of assets.
Maps – A Maps portal has layers that can be controlled with a click or a tap to the screen for easy management of inventory and teams. Time management features native to Google Maps help with time management and show the impact of weather and traffic on field activities.
Work Order – A Work Order portal creates transparency through the lifecycle of a project by managing work orders and tasks assigned to individuals or teams.
Analytics – An Analytics portal makes it possible to view data across multiple platforms in a single display with metric-driven tools and visualizations.
Schedule – A Schedule portal offers optimization for route management decisions to reduce idle time of people, equipment and vehicles.
Teams – The Teams portal of Atom displays filtered information regarding employees, including their associated activities, teams, divisions, status and other background information.