Editor's note: This installment is the first of a two-part series on strategic routing technology. Part two will focus on using routing tools to identify cost-saving opportunities.
Route planning and scheduling is one of the most routine activities in fleet operations. One way to avoid the monotony is to leave the details up to drivers.
"Be in Sacramento by 9 AM on Monday" could be the only instructions a dispatcher gives. Considering all of the cost-saving opportunities for optimizing routes, that scenario should be considered only as a last resort.
Some fleets now use technology to give drivers very specific route plans. As drivers approach their destination, navigation systems can give very specific instructions for where they should enter facilities and what procedures to follow to minimize accident risk and improve productivity.
This article shows some of the latest technologies fleets are using to turn their routing into a strategic advantage.
Urban deliveries
According to research firm Nielsen, four percent of food and beverage sales are made online and by 2025, e-commerce will capture 20 percent of the $700 billion market.
As an online grocer, Fresh Direct provides next-day delivery in the densely populated Connecticut-to-Philadelphia region. The heaviest concentration of orders come from the Manhattan district of New York City.
Early evening is the company's cutoff time for order placement to qualify for next-day delivery. After this time, the company can start its route scheduling and planning process for a private fleet that operates 320 trucks a day, on average, and more than 400 during peak seasons.
The company uses the Omnitracs Roadnet software to dynamically optimize daily routes. Some routes will dispatch a truck to a central location where employees called "runners" make door-to-door deliveries with handcarts that carry up to 20 cartons. All of the runners have separate routes.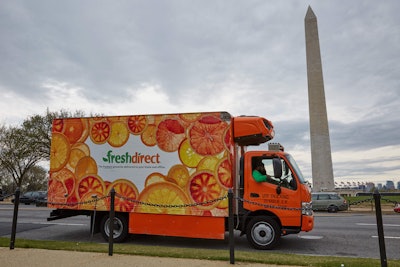 To make this unique route scenario work, Fresh Direct needs enough orders to fill three to six routes in an urban area, says Rod Mathey, senior operations analyst at Fresh Direct. During the planning process, route planners input the number of runners available the following day, and at what time, in the Omnitracs Roadnet software.
"We can set up any number of different schedules for individual routes," Mathey says. "On the day before delivery it ends up being a people management issue to know who we will have available."
Once the schedules and routes are set, Fresh Direct sends runners a text message with instructions on where and when to go for work the next day. The employees use public transportation to get to their assigned locations because of limited parking.
"I can't imagine how they would drive to a job," he says.
Mathey expects the number of handcart routes will increase as the company grows. This will increase the profitability of routes while meeting next-day service requirements.
"We will create more and more of these as we get to the right density level in various neighborhoods," he says.
Final-mile routing
The last few miles of a route can be the most difficult and risky for drivers. The streets get smaller and the turns tighter before drivers reach pickup or delivery sites. Once they arrive, they may not know where to enter, where to go, and who to ask for.
All of this can leave drivers confused and distracted, raising the stress level and the risks for accidents.
One routing strategy is to set custom preferences, similar to UPS limiting the number of left-hand turns on its delivery routes. TruGreen, a lawn care service provider, uses such a feature in a suite of route planning applications from Telogis for its 7,000-vehicle fleet.
TruGreen has optimized routes that put its driver technicians at customer locations with the right side of their trucks — where the hose is located — facing lawns for service, says Ken Dewitt, chief information officer of TruGreen.
Another strategy is give drivers very detailed instructions on the final mile of their routes, similar to air traffic controllers giving airplane pilots specific procedures when arriving and departing from airports.
One of the modules that integrates with the Telogis navigation app is Telogis Sites. This module lets users create site-specific instructions for drivers. With the app, users can view aerial, satellite images of locations and set geofences to trigger the workflow for drivers when they cross these geofences.
A workflow for a specific location could be to read drivers a custom note with instructions for the site such as where to enter. Another geofence could be set up at the entrance to trigger instructions for where to proceed next like "head to loading dock 12 and ask for Mark."
By using this feature in Telogis Site, transportation companies can take away distractions for their drivers, says Erin Cave, vice president of mobile product management for Telogis.
In May, Tri-State Motor Transport (TSMT) began using the Telogis Navigation app to send drivers detailed instructions for the final mile to assist with pickup and deliveries.
"Our main concern is that they are on a safe, legal route for the product being transported," says Frank Larance, director of asset utilization and business intelligence. TSMT is a division of Roadmaster and provides specialized, secure transport with 300 power units dispatched from offices in Joplin, Mo., and Glendale, Ariz.
Pinpoint accuracy
Collecting data from GPS tracking systems can help fleets create more strategic routes by pinpointing the entrance and exit locations at a facility, among other details.
TMW Systems, a developer of transportation management software, has modified its flagship platform TMW.Suite to store very precise lat/long coordinates. The software captures location data from GPS tracking systems as trucks arrive and depart from planned stops, says Keith Mader, senior vice president of architecture.
TMW.Suite can store up to six digits to the right of the decimal for lat/long coordinates. At this level, the position is within four inches of accuracy. Over time, the software can average the position data to "zero in on the truth to where the location is," Mader says.
The precise locations can be used in the dispatch process that sends the route waypoints — including the location of an entrance and loading dock at a customer facility — to an in-cab navigation system such as CoPilot from ALK Technologies for turn-by-turn guidance, he says.
Fleets can view the position history in ALK's mapping product on a satellite image of a customer location, to set the location and configure the routes as needed.
"The quality of the satellite imaging is so good that you can see the wear marks on the road where drivers are entering and exiting," says Jeff Sibio, ALK's director of implementation and enterprise solutions.
Site-specific training
Another strategy for final-mile routing is to give drivers site-specific training using digital media content. Instructional Technologies, Inc. (ITI), best known for its online Pro-Tread training platform, develops custom 3D site training modules for fleets.
ITI's training modules can simulate what drivers see and encounter at locations. To develop the modules, ITI uses satellite imagery, photos and video of the locations.
Ryder uses site-specific training from ITI in all three of its divisions — fleet management, supply chain and fleet maintenance. With the modules, Ryder can show drivers the accident risks at each location and how to avoid them, says Mauryo Jones, director of safety and health for Ryder.
Ryder's mobile technicians take training modules to familiarize themselves with customer locations they go to for inspecting and maintaining equipment. Similarly, its supply chain division uses site-specific training for its dedicated fleets.
Before delivering automotive parts to car dealerships, for instance, a driver would take a training module to know where cars are parked and pedestrians are on a dealer lot to "make sure we have a clear way in and out," she says.
Another Ryder dedicated fleet delivers to a major retailer in the northeast. The training helps its drivers prepare for "very dangerous" locations with small parking lots, she explains.
The process to develop a custom 3D site-specific training module takes about four weeks. Any original module can be used as a template to develop new modules for similar locations in a faster timeframe, says Nathan Stahlman, chief operating officer of ITI.
Mileage variances
Some fleets use mileage and routing products from more than one supplier. For example, the system that supplies mileages for sales, operations and driver payroll may use a different mileage standard than what they use for navigation.
The differences in mileages may not amount to much, but over the course of weeks and months the differences can add up to real costs.
ALK Technologies has been seeing a "dramatic increase" in demand from fleets looking for more consistency and predictability in mileage and routing applications, Sibio says.
Fleets want to ensure that if they plan a route or rate a shipment using ALK's PC Miler application, for example, that the driver is executing on an identical route plan so that "a mile is a mile throughout all processes," he says.
By the same token, he says fleets want their reporting to give everyone the same version of the truth by using the same mileage standard.
"What we are finding is that by synchronizing on a common road network and dataset is helping improve the way fleets can manage their KPIs," he says.
TMW Systems and ALK Technologies have integrated their products so the route plan going from TMW.Suite to drivers is the exact same route as what drivers are getting from the CoPilot in-cab navigation app from ALK.
Anytime TMW.Suite makes an update to a route plan, such as adding a fuel stop or a tank wash location to a dispatch route, the system automatically will request a new route from ALK's PC Miler application and send the route plan to CoPilot in the cab.
In addition, fleets are asking for more information to help drivers plan routes more effectively, Sibio says. ALK can provide route-specific weather alerts to CoPilot to help drivers predict what they will encounter six to eight hours in advance. Similarly, real-time and historic traffic information can help drivers plan their departure and arrival times in advance, he says.
In August, TMW Systems plans to release a new software-as-a-service product called Trip Insight. The product will combine a driver's route plan with hours-of-service information to deliver accurate ETA status for appointments.
With these and other developments, fleets can continue to make route planning and execution part of their strategic advantage.