CCJ's Indicators rounds up the latest reports on trucking business indicators on rates, freight, equipment, the economy and more.
---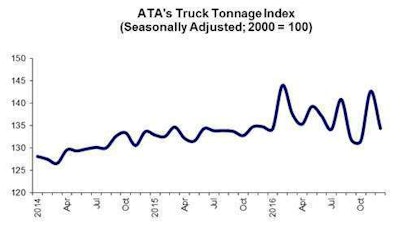 Tonnage down — for now: Truck tonnage fell in December, according to the American Trucking Associations' monthly report, bucking recent indicators pointing toward positive momentum for truck freight in the month.
Tonnage fell 6.2 percent in November, according to ATA's For-Hire Truck Tonnage Index. Compared to the same month in 2015, tonnage was also slightly down. For all of 2016, tonnage was up 2.5 percent from 2015, ATA notes. On a positive note, ATA did upwardly revise November's tonnage gain to a sizeable 8.4 percent.
"The ups and downs that plagued most of 2016 continued in December," said ATA Chief Economist Bob Costello. "I don't recall a year in recent memory with so many large swings on a month-to-month basis."
Costello says recent market trends point to a coming uptick in tonnage.
"Looking ahead, there are some positive signs for truck tonnage. This includes the continued spending by consumers, larger wage gains, and solid home construction," he said. "Factory output will continue to be soft, but it should be better this year than last year. And most importantly, the supply chain continues to make progress reducing bloated inventories, which will help truck volumes going forward."
equipment, the economy and more.
---
Commercial vehicle registrations down in '16: New registrations of Class 8 commercial vehicles in the U.S. declined 19.7 percent through November 2016, based on the latest analysis by business information provider IHS Markit.
Within Class 8, the decline was greatest in tractors, down 27.8 percent, with straight trucks improving 2.9 percent in the 11-month timeframe.
IHS Markit expects registrations to climb in 2017.