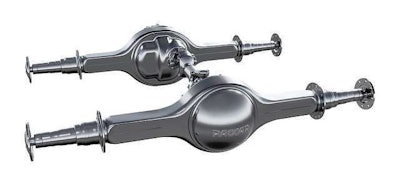 Paccar's new tandem rear axle is now standard on the Kenworth T680 and T880, the company announced Tuesday.
The lightest and most efficient tandem in its class, Paccar's axle is designed to improve the operating efficiency for line haul, regional haul and pick-up and delivery customers. Rated at 40,000 pounds, the Paccar tandem axle supports a gross combination weight of 80,000 pounds.
The design features a unique pinion-through-shaft design that simplifies power flow through the forward axle for maximum efficiency. The axle also incorporates a laser-welded carrier design that reduces weight and improves fuel economy.
Kurt Swihart, Kenworth marketing director, adds the Paccar axle reduces vehicle weight by up to 150 pounds, and complements the efficiency of the MX-11 and MX-13 engines.
Offered in ratios of 2.47 to 3.70 with engine torque compatibility up to 1,650 lb.-ft. and multi-torque rating compatibility up to 1,750 lb.-ft., the Paccar tandem axle comes with warranty coverage of five years or 750,000 miles.